75,000 rupees for giving sugarcane to the elephant. Mysore lorry driver fined! – Tamil nadu Forest Officer Fined Rs 75,000 to Mysuru Lorry Driver Over giving sugarcane for feeding wild elephant
A lorry driver from Mysore district, who was caught by the Tamil Nadu forest officials for giving sugarcane to foresters, has been fined Rs 75,000. He took it like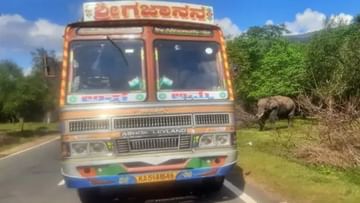 A lorry driver was fined for giving sugarcane to a forester
Chamarajanagar: Out of concern for the animal or humanity, a lorry driver gave sugarcane to a wild elephant to eat. But, I think it was wrong to give sugarcane to the elephant. A strange incident has come to light where the forest department fined 75 thousand rupees to a lorry driver from Mysore who gave sugarcane to the wildebeest near Hasanoor in the neighboring Sathyamangalam tiger reserve in Tamil Nadu.
Siddharaju, a lorry driver from Nanjangudu taluk of Mysore district, was on his way to Tamil Nadu with sugarcane loaded on December 3. At that time, he gave sugarcane to Kadane near Hassanur in the border area of ​​Tamil Nadu. Seeing this, the forest officials have taken the driver to task. Also 75,000 Rs. Fined.
This too Odi: resort politics that also entered the Gram Panchayat: came in a plane and moved no confidence against the President
A lorry full of sugarcane was standing at a distance of three km from the Karepallam check post. While the forest department personnel were patrolling, they saw the lorry driver taking sugarcane to eat in the forest near the national highway. Later, during interrogation, the lorry driver admitted that he had given sugarcane to the elephant. 75 thousand in this background. Charged.
Parking of vehicles and feeding of wildlife is not allowed in the sanctuaries. It is common for elephants to stop sugarcane lorries and eat sugarcane on the highway that passes through the Satyamangala Tiger Reserve on the border of the district.
Elephants had developed a habit of coming to the road because the drivers gave them sugarcane. This would have led to an accident. Also, sometimes they are attacking vehicles. Therefore, it was forbidden to feed the wild animals. Sathyamangalam forest officials said that the lorry driver who gave sugarcane to the forest in violation of this rule was fined and warned.
For more news Click here
.