Bengaluru Illegal sale of e-cigarettes, foreign cigarettes CCB raids on shops in Bengaluru news in kannada | Unauthorized sale of e-cigarettes in Bangalore: CCB raids on shops
The CCB police launched an operation on information that e-cigarettes and foreign cigarettes were being sold illegally in Bangalore city and raided many shops and conducted inspections.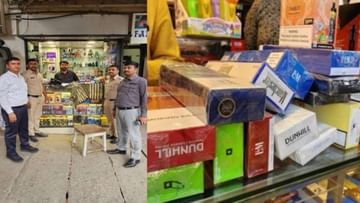 CCB police raided shops selling illegal e-cigarettes and foreign cigarettes in Bangalore
Bangalore: Unauthorized e-cigarettes in the city (E-cigarettes) And foreign cigarettes (Foreign cigarettes) The information that they are selling went into the background operation CCB Police (CCB Police) Many shops were raided and inspected. CCB police raided many shops in the area of ​​Koramangala, Mykolayout, Cubban Park, KS Layout, Pulikeshi Nagar Electronic City Police Station simultaneously this morning. During the raid, 681 e-cigarettes and 805 foreign cigarettes worth 8.9 lakhs were seized. The Prohibition of Electronic Cigarettes Act was filed against shop owners in Koramangala, Mykolayout, Kabban Park, KS Layout, Pulikeshi Nagar Electronic City Police Stations. (THE PROHIBITION OF ELECTRONIC CIGARETTE ACT) And COTPA act A case has been registered under Ft.
A fire broke out in a cattle barn, a farmer was seriously injured
Devanahalli: A fire accident occurred in Dhanada Kotige and two cows died due to the fire. The incident took place in Honnaghatta village of Doddaballapur taluk of Bangalore rural district. In the evening, the cows were tied inside the house belonging to Munihanumayya of the village. At this time, the barn caught fire and two cows were burnt alive. Munihanumayya, who came forward to save the cows caught in the fire in front of his eyes, was seriously injured and the local people admitted the injured farmer to Doddaballapur Hospital.
The person who went down to bathe in the river was Neerpalu
Gadag: The incident took place near the temple of Singatalur village in Mundaragi taluk, where a person got drowned while taking a bath in the Tangabhadra river. Chandrasekhar (45) of Kotumachagi village is the person who died. Chandrasekhar, who had arrived at Korlahalli village for the fair, took a seat in the river near Singatalur temple. This time, he got caught in the current and got washed away. The police rushed to the spot and with the help of the local people put a raft in the river and are searching.
Read more state news Click here
.