Bus Service: Bus service started between Karnataka-Maharashtra; MES is about to add fuel to the burning fire
Karnataka-Maharashtra Border Issue: Bus service between Karnataka-Maharashtra, which was suspended due to border dispute, has started. Bus traffic between the two states was suspended for the past two days. For two days, buses were plying only to the border area, so people had to come on foot and catch another state vehicle. The people of the border areas of both the states are heaving a sigh of relief as the bus service has started. Bus traffic was suspended due to the insolence of Shivsena and Maharashtra Nav Nirman Sena thugs. Belagavi and Chikkodi bus services have resumed from today.
150 buses from Belgaum section and 250 from Chikkodi section have started plying. Bus service has started from Belgaum to Mumbai, Thane, Nashik, Pune Aurangabad, Meeraj, Sindhadurga.
70 lakh loss in two days
It has been learned that the Belgaum-Chikkodi section has suffered a loss of 70 lakhs due to the suspension of bus traffic for two days. Due to the tense situation at the border, the transport personnel are reluctant to go to Maharashtra, while senior officials are working to instill confidence in the drivers and operators.
Maharashtra has not started bus service
Belagavi authorities are in constant contact with the Maharashtra transport authorities and precautionary measures have been taken to prevent any untoward incident. But the Maharashtra Transport Department has not released its buses to Karnataka. About 69 buses were coming from Maharashtra to Belgaum section daily.

Preparation for Mahamelav
If the hostile atmosphere is created in the two states due to the Karnataka Maharashtra border dispute, the traitorous MES is ready to add fuel to the burning fire. Preparations are being made to organize a Mahamelav on December 19 in response to the winter session. On the day of the winter session, preparations were made for the Mahamelav at the vaccine depot grounds of Tilakwadi.
Also Read: Viral Video: Lives Survived Despite Train Pass; Mother-Son Great Escape
MES invitation for Maharashtra leaders
MES has invited Maharashtra leaders to participate in Mahamelav. MES has invited many leaders including Maharashtra Chief Minister Eknath Shinde, NCP chief Sharad Pawar, Border Minister Chandrakant Patil, Shambhuraj Desai, Shiv Sena chief Uddhav Thackeray.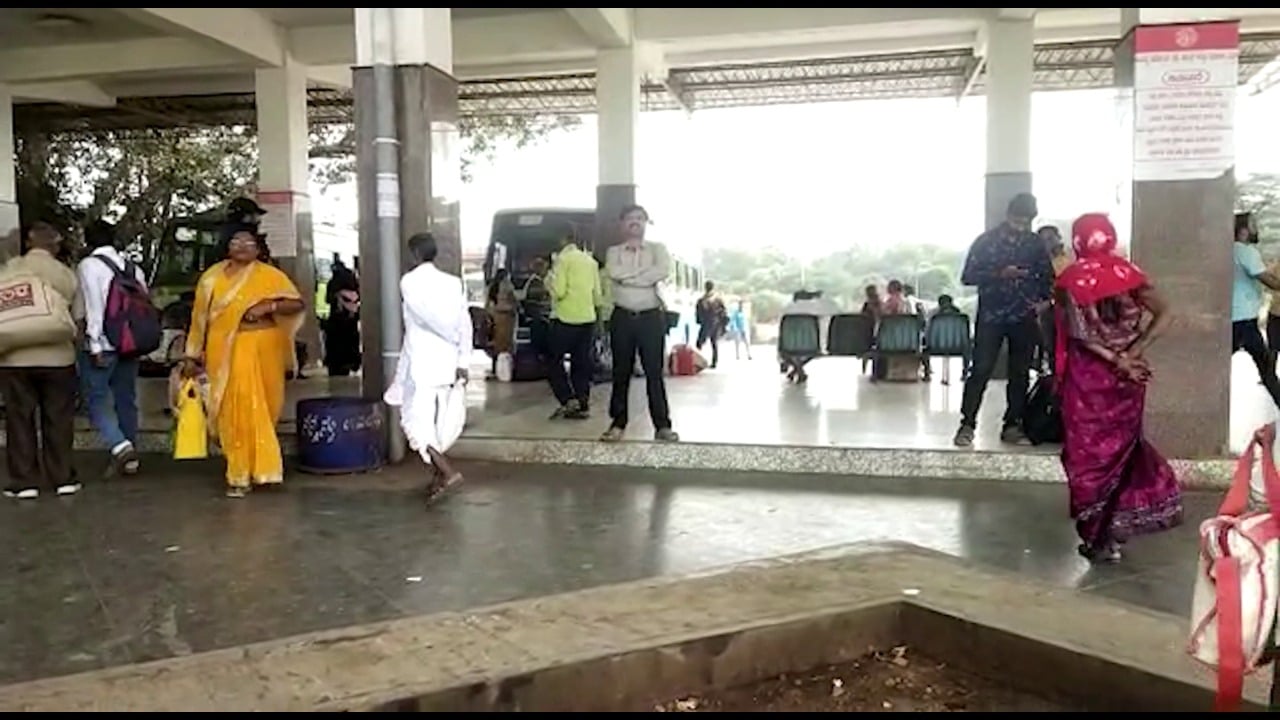 Belgaum Bus Stand
Pro-Kannada organizations demand not to grant permission
MES has requested by letter to send two leaders from each party to Mahamelav. Since it is an election year, MES has planned to hold a grand melao this time. Pro-Kannada organizations have demanded that Mahamelao should not be allowed.
Also Read: Belagavi Dispute: Tense situation on Belagavi border; Raj Thackeray angered the Kannadigas!
Protest in front of the District Collector's office
The indignation of Karave activists in Belgaum against Shiv Sena and Maharashtra Navnirman Sena thugs, who are forgetting their perversity, continues. A protest was held in front of the Belgaum District Collector's Office by Karave activists condemning the thuggishness of Maha Punda. During the protest led by Karave State Coordinator Mahadev Talwar, he condemned the brutality of the Maharashtra thugs.
.