Colombia Landslide: Massive landslide in Colombia, 34 people killed – Colombia landslide update At least 34 killed news updates
A bus carrying passengers was buried under the mud in Pueblo Rico, Risaralda, about 230 km from the capital Bogotá. At least 34 people died in the incident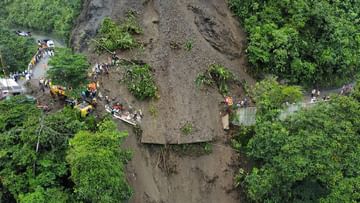 Massive landslide in Colombia, 34 dead
Image Credit source: ABC News
A massive landslide has occurred in Colombia. The bus carrying passengers got buried under the mud. Private media reported that at least 34 people died in the incident. The landslide occurred early Sunday morning on the road to Choko in Northern Province. Colombian President Gustavo Petro tweeted about the incident on Monday and said that 27 dead bodies have been removed from the bus stuck in the mud. But now the death toll has increased. It is said that 34 people have died and the death toll will increase.
I am saddened to announce that 27 people, including 3 minors, lost their lives in the disaster at Pueblo Rico, Risaralda. The government stands with the families of the victims. Petro had earlier tweeted that comprehensive support would be provided by the national government.
With tristeza I must announce that until now 27 people, including 3 minors, have lost their lives in the tragedy of Pueblo Rico, Risaralda. Solidarity with the families of the victims, they will have an integral accompaniment on the part of the National Government.

— Gustavo Petro (@petrogustavo) December 5, 2022
Also Read: New experiment by Forest Department to prevent land subsidence; Seed sowing by drone
This event, which took place in Pueblo Rico, Risaralda, about 230 km from the capital Bogotá, is reminiscent of the Nayantara starrer O2. At present, 9 people stuck in the bus have been rescued and the condition of 4 is serious.
Heavy rains in Colombia have killed more than 216 people in heavy rain-related incidents so far in 2022, according to government figures. 48 people are missing.
On this to read important news Click do
.