Danger to life, recorded a video in which the names of all the conspirators are: Imran Khan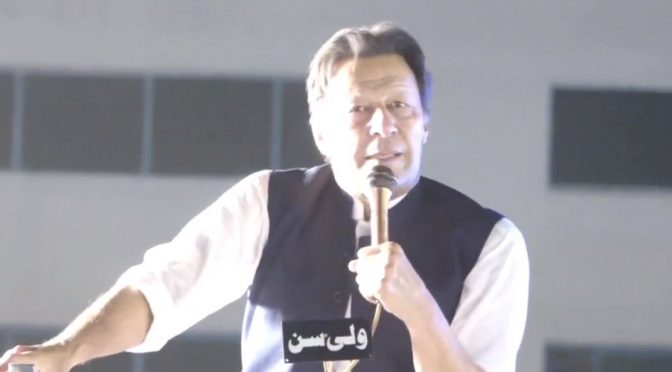 Sialkot: (Web Desk) Pakistan Tehreek-e-Insaf (PTI) Chairman and former Prime Minister Imran Khan has said that there is a conspiracy against me in closed rooms to kill Imran Khan, I already knew about this conspiracy, I A video has been recorded that if anything happens to me, this video will come out in front of the whole nation. This video contains the names of all the conspirators.
Addressing a meeting of Pakistan Tehreek-e-Insaf (PTI) in Sialkot, Imran Khan said that Allah worships you and seeks help from you. We do not bow down to any human being or any superpower. Nawaz Sharif is your party as cowardly as you are. Our government did not even try to stop his meeting, long march. After three months, they would come to overthrow our government. Zardari was also with you.
He said that there was a conspiracy against me in closed rooms to kill Imran Khan, I already knew about this conspiracy, I have recorded a video that if anything happened to me this video in front of the whole nation. Will come The government conspired and did not allow us to hold a rally in the big arena. Nawaz Sharif is a coward who has never done a single thing honestly in his life.
Chairman PTI said that Nawaz Sharif acted in such a way that he thought he was going to die, but as soon as he saw the stairs of the plane, he immediately went and sat in it. Sharif and Zardari family ruled for 30 years, we only got power for three and a half years, Shahbaz Sharif says, Pakistanis are beggars, so they will have to do American slavery.
Criticizing Defense Minister Khawaja Asif, he termed him as Khawaja Vanity Liter and said that you have put this country on Vanity Letter. We have ruled the country for only three and a half years now. Taken out To this day, no one in the history of the world has been able to stop the revolution, this politics is not happening, this revolution is coming, and neither Nawaz Sharif, nor Shahbaz Sharif, nor his son can stop it, nor the Interior Minister can stop it. Yes, no power in the world can stop this revolution. When we reach Islamabad, we will be at peace. If you try to stop or spread chaos, you will not find a place to hide anywhere in Pakistan.
The former prime minister said, "I humbly ask the judiciary, am I too dangerous to betray the country that you open the courts at midnight?" My innocent question is that there are cases of Rs 24 billion against Shahbaz Sharif, his sons Hamza and Salman Shahbaz, 24 billion means cases of corruption of Rs 2400 crore against these people.
He said that after 2004, there was the highest industrial production in our era. This madness cannot be bought without opening it. This madness will bring revolution inside Islamabad which will bring real freedom. Exports increased by 29% in our government. I got the most money from farmers, the most jobs in the subcontinent I got in Pakistan, economic growth is a record 6%, since they have been stolen the rupee has been depreciating, the stock market is going down, now Bilawal is going to America Will beg Yes don't be afraid
Imran Khan said that like me you should not have any fear, insha Allah there will be a meeting in Islamabad, Usman Dar, I pay tribute to Umar Dar for fighting the dacoits Don't panic
He said that today I am humbly asking a question to my judiciary. What good is it that you took suo motu notice on Sunday. You will be in great danger from Imran Khan. Open the courts at 12 o'clock. Let's go. It was very dangerous and someone was going to betray the country to open the courts at 12 o'clock at night.
He said that he humbly asked his judiciary that it is a very innocent question that Shahbaz Sharif and his son Hamza Shahbaz and fugitive son Salman Shahbaz have FIA ​​cases worth Rs 24 billion. I salute Dr. Rizwan, a strong FIA officer who had the courage to take action against the Sharif Mafia and seize Rs. 16 billion on the bank accounts of Maqsood Chaprasi and his servants.
He said that what happened then, Dr. Rizwan was pressured, Hamza Sharif threatened him and that Dr. Rizwan was under severe pressure, he had a heart attack and died. The other officer who was investigating the FIA ​​case of Shahbaz Sharif, his name was Nadeem Akhtar. He had a heart attack yesterday. How is it that he is investigating the mafia? ۔
The former Prime Minister said that where are my courts, it is your job to protect them, who is the next government servant of this country, which CFIA, which CFBR, which police officer ever your Will stand in front How will the institutions of this country stand in front of powerful criminals, I ask my judiciary who will protect the institutions of this country.
"I humbly ask my courts that this is the destruction of our country in front of you, when the institutions are destroyed, the country is destroyed," he said. The next question I would like to ask is whether it is the fault of those who are full of petty thieves in our jails that they are petty thieves.
He said that if you do not catch them then I say open the prisons of Pakistan, get these poor people out, by combining the whole theft of these poor thieves they reduced the 4 billion that came in the bank of a purpose chaprasi. Is.