(Pragya Raghavendra, News 18 Telugu, Vijayawada)
No one likes biryani. Chicken Biryani is one of the most popular food lovers. However, the organizers of Ganguru Paka Biryani say that not all biryani are the same. Boiler chicken biryani is usually found in hotels and restaurants, but they also have a special biryani made with farm chicken, say the culinary biryani organizers. If you want to know the answer to the question on your mind what is the culinary biryani and what is special about it, you have to go to Gangur near Vijayawada.
Located on the Vijayawada-Machilipatnam National Highway in the village of Gangur, next to the highway, the Zaher Sharif Gangur Cuisine Biryani Hotel is well-known to people from different districts.
Biryani point that started in small cuisine‌
In April 1982, a man named Haji Saheb started making and selling biryani in a small kitchen in Gangur. That special beer received a good response from the people. The reason is that there is a chicken biryani made with farm chicken meat. Food lovers are well accustomed to this new recipe. If all those who love biryani go to that culinary biryani center then understand how much they like the taste there

40 years of rule ..
Haji Saheb started this biryani point in a small kitchen..now his grandson Amin Sharif is continuing it. Customers' tastes are changing with the times. With this, to impress the diners, it was turned into a restaurant with more flavors. For almost four decades, this form of chicken biryani recipe has been served to food lovers with the same taste by culinary biryani organizers.
Culinary Biryani, which started in 1982 with Rs.
Is this culinary biryani different from biryani …!
Same taste for 40 years..same quality ..!
He said that old methods are being used to make biryani. The spice required for the biryani is also specially prepared. Organizers Amin Sharif said that the taste of the biryani has not changed to this day.
Special Egg Curry ..:
Biryani is usually served at various hotels along with Sharwa, Katta and Gongura but the organizers say that Ganguru Cuisine Biryani offers a special egg curry.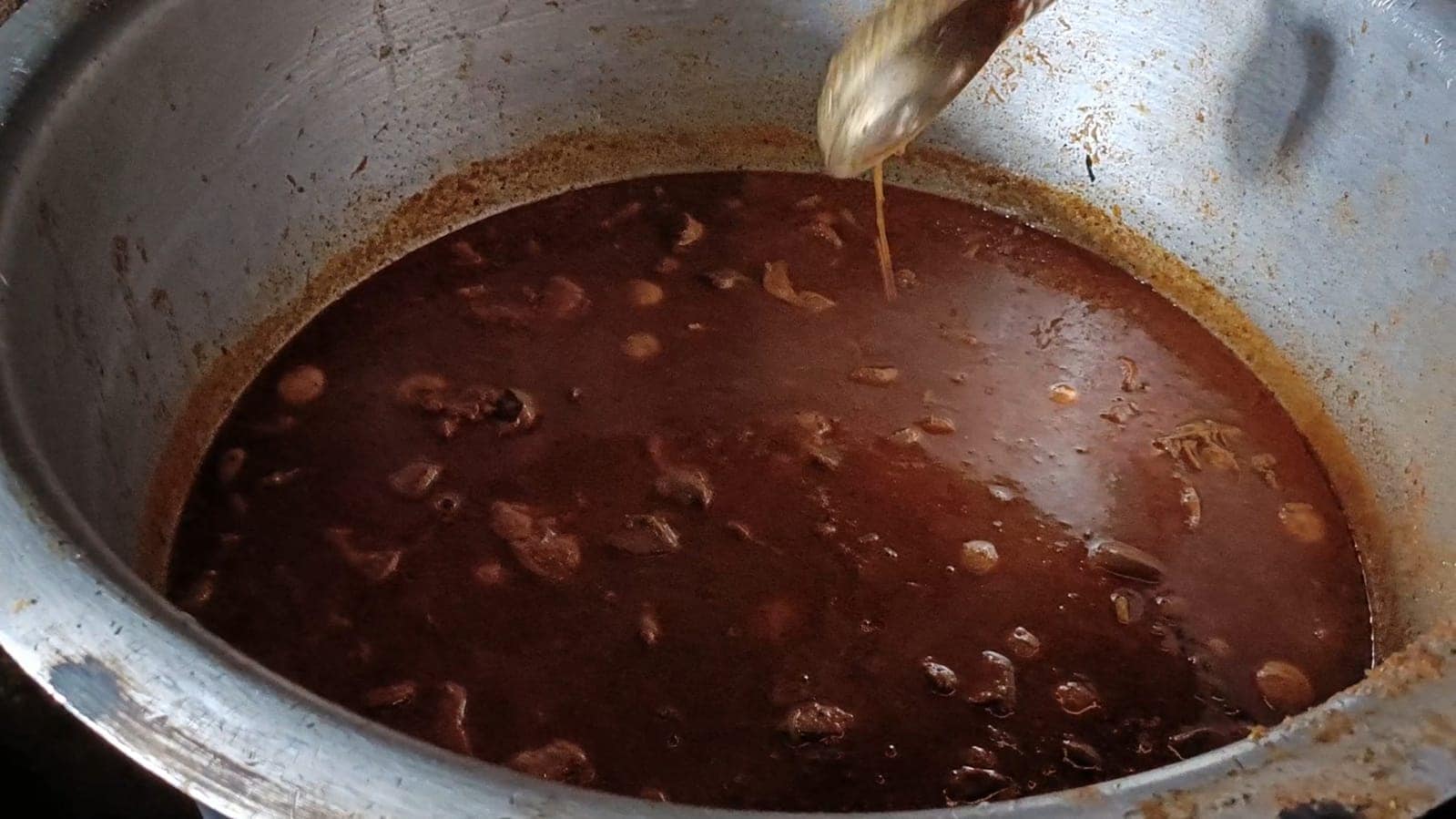 Kodali Nani Favorite Biryani ..!
Organizers said that not only food lovers but also politicians, movie and serial stars are coming for this special biryani. Sharif said he still tastes this special biryani when former minister Kodali Nani walks down the aisle at least once a month.
A new type of cuisine is available at the Culinary Biryani Center to suit the trends of food lovers. Along with the traditional form chicken biryani, chicken starters and a variety of chicken items are also served.

Customers say Biryani Taste Vera ..!
Customer Shobhana Babu says that we make and eat broiler chicken at home but the biryani found here with farm chicken is very tasty … just come here and eat it for the biryani. Many times while traveling this route we wanted to eat a special biryani there but could not. Food lover Ramya says my dream has now come true.
It is no exaggeration to say that not only food lovers but also those who come to Vijayawada for business and commercial purposes can go here without tasting the biryani. This time if you go that way try once.

Address: Gangur Cuisine Biryani, Gangur, Krishna District, Andhra Pradesh-521139.

Phone Number: 6302340266

How to go?
This restaurant is located on the way to Machilipatnam from Vijayawada. Located at a distance of 13 km from Vijayawada, Biryani Point is easily accessible by auto and bus.
From your city (Vijayawada)

Read Telugu News, Breaking News News 18 in Telugu. Read National, National, International, Tollywood, Sports, Business, Health, Lifestyle, Spiritual, Horoscopes.
Tags: Andhra Pradesh, AP News, Chicken biryani, Local News, Vijayawada
.