Fleming's stay post will know; Satellite tagging to six flamingos – Marathi News | Flemingo's original place will know; Satellite tagging to six flamingos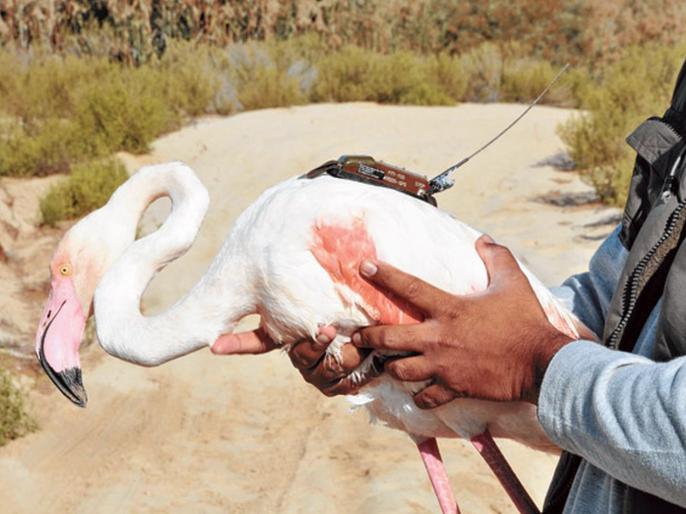 Lokmat News Network
Mumbai: The Bombay Natural History Society has launched six flamingos in Mumbai for the protection and conservation of flamingo birds entering Gujarat, Mumbai and Maharashtra from abroad. Through this initiative, many things will be revealed, including finding out the whereabouts of the flamingos and their routes.
Informing the satellite tagging of flamingos on the occasion of World Migratory Bird Day, BNHS said that ringing and satellite telemetry studies were needed to unravel the mystery of flamingo migration. BNHS launched satellite telemetry study to suggest management action to understand patterns of laser and Greater Flamingo migration and habitat use in Thane Bay as part of the Mumbai Trans Harbor Link project. Accordingly, between January and April 2022, scientists performed satellite tagging on six flamingos using solar-powered equipment.
Tagged premises
Two flamingos have been satellite tagged at Bhandup pumping station and four flamingos at Tanning Ship Chanakya (Navi Mumbai Palm Beach Road).
 Migratory birds are being studied by the institute. Migratory birds are being monitored through bird ringing and telemetry studies in 20 states and two union territories, with a permanent center on the subject at Point Calimere in Tamil Nadu.
सहा Six species of flamingos are known in the world. Two of these species, the Laser and the Greater Flamingo, are found in India.
प्र Breeding and migration of flamingos in the Indian subcontinent has been a mystery since the 20th century.
अभ्यास Studies on flamingo reproduction are ongoing.
 About 2.5 lakh migratory birds are found in Thane Bay Flamingo Sanctuary. This includes flamingos. Flamingos are also found in Shivdi.
१ About 1.3 lakh flamingos visit Thane Bay from September to May.
In the last 95 years, BNHS has ringed more than seven million birds. 175 satellite transmitters have been deployed on 15 bird species to study their migration. More than 18,000 birds have been ringing in the last four years.
– Dr. Biwash Pandav, Director, BNHS
Flamingos have been subjected to satellite tagging to protect and nurture flamingos, to find out their whereabouts, and to gather more information. – Rahul Khot, Deputy Director, BNHS
Web Title: Flemingo's original place will know; Satellite tagging to six flamingos
Get Latest Marathi News , Maharashtra News and Live Marathi News Headlines from Politics, Sports, Entertainment, Business and hyperlocal news from all cities of Maharashtra.