French Police: The house of police with a stick between two legs, what happened to the young man… – French man loses testicles after clubbing by police during pension reform protests
France pension reform protests: An officer knocked him to the ground. Another officer aimed the baton at his groin.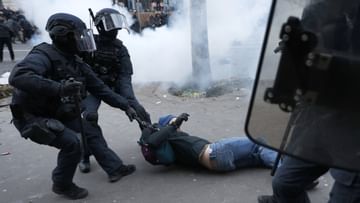 A protester is being taken away by the police
Paris: Participating in the protest raised questions about the fatherhood of a young Frenchman. Because the police threw him on the street and beat him so brutally between his legs that his testicles had to be amputated. Last week, thousands of people demonstrated in the French capital Paris to demand reform of the pension structure. 26-year-old Ivan S. participated there. After losing his testicles, he sued the French police. He said, "I am not the first person to be a victim of police brutality. I have filed this case so that police terror stops."
Photos and video footage of Thursday's protest, which have circulated on social media, show Ivan being pushed to the ground by French police and punched between his legs. Then leaves him in that state. The 26-year-old was holding a camera. It is known that he did not directly participate in that protest. He was filming the clash between protesters and police. At that time, a police officer pushed him and threw him to the ground. Another police officer allegedly clubbed Ivan in the groin. Notably, about 1 million people marched across France last Thursday in opposition to government plans to raise the retirement age.
After Ivan's story was published in the French press, Paris police chief Laurent Nunez ordered a detailed investigation into the incident. Accusations of gratuitous violence against French police are long-standing. This incident has emerged as one of the proofs of that allegation. Ivan's lawyer said a case has been filed against the French police alleging intentional violence. He said, "The injury was so strong that one of his testicles had to be amputated. My client is still in the hospital. The injury was not done in self-defense or out of necessity. There is clear evidence of this in the pictures we have. Moreover, he was not arrested. Ivan still doesn't understand why he died."
.