Government Bans Sales Of Gold Without Hallmark From April 1st, Know What To Do With Old Jewelries Without Certification | Hallmark Gold: Ban on non-hallmarked gold from April 1; What should an old spouse do?
No Sale of Gold Without Hallmark: In 2021, the government made it mandatory that gold without a hallmark cannot be sold. Accordingly, the sale of such goods has been banned from April 1. This is an order issued to the shopkeepers. So, what should the common people who keep the gold of KDM etc. identity do? Here is the details…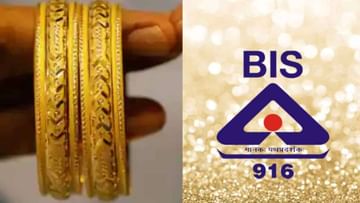 Hall mark gold
Bangalore: Any consignment stores in India, Gold traders April 1Since Hallmarkless Goldthe (Gold without Hallmark) Can't sell. To maintain the gold standard, The government is taking this step to prevent illegal sale and to trace every shipment. 2023, April 1Since sale of goods without hallmark is prohibited. Any one can check the purity level etc. of the item bearing the hallmark. HUID assigned to each warehouse (HUID) The hallmark is special. Each warehouse's ID mark is different.
Marking the quality of a garment is an old one. Formerly KDM (KDM Gold) Mark was being put. After that came Hallmark system. Govt 2021Made it mandatory to put hallmark on gold in the month of June itself. One year to sell the un-hallmarked goods if they are already there 9 A month's time was given. That deadline is running out, April 1Since sale of gold without hallmark is prohibited.
Also read this: BIG FD Rates: Jana Bank's FD returns surpass even real estate in Bangalore
A six digit number hallmark
Gold is a very soft metal. It cannot be properly used for storage. Certain other metals are mixed with it. 24 Aparanji is the gold of the carat, That means pure gold. 22 Karat gold is gold mixed with a small amount of other metals. Generally for warehouses 22 Carat gold is used. For some stores 18Carrot and 14 Carat gold is also used. The lower the amount of gold, the lower the value of that deposit. Thus24 If there is a maximum price for carat gold22 Carat gold has a slightly lower price. 22 Percent at carat level. 91.6There will be gold. 14 Per cent in carat gold. 58.5Only percent is gold.
Now coming to Hallmark, it is an ID that tells the purity of gold etc. This mark is placed on every warehouse. of which BIS (Bureau of Indian Standards) There will be a Hallmark logo. A number indicating the level of purity, And the HUID number is placed inside the bag.
Also read this: Grow Money: These are much better than FD, Insurance; These are the best investments without much risk
HUID is different for every store. Through this ID one can trace the authenticity of the warehouse including its license details. There is also an app called BIS Care on Google Play Store for that.
Assaying and hallmarking centers accredited by BIS are present in almost all cities. Go there and pay a small fee and test the deposit.
Also read this: Cryptos Under Law: Application of PMLA Law to Crypto Transactions; A hidden transaction cannot remain a secret
What should old owners do??
There is no problem for common people who want to sell their old goods. Old goods have less hallmarks. But, You can go to Hallmark centers and get the product tested for purity and then sell it. The odava shop who buys this old odava has to melt this gold and make a new odava and get the hallmark certification..
Click here for more business news
breaking news
.