Governor's big action, special session of Punjab Vidhan Sabha cancelled
Chandigarh- The special session of the Punjab Government to be held tomorrow has been cancelled. This action has been taken on the orders of Punjab Governor Purohit Lal Banwari. Let it be said that the Punjab Cabinet had approved the third special session of the Vidhan Sabha to be convened on Thursday. Along with this, a whip has also been issued by the speaker of the Punjab Vidhan Sabha before the proceedings of the Vidhan Sabha session. Along with this, all the MLAs of 'AAP' have also been ordered to be present in the session.
Let it be said that Congress MLA Sukhpal Pal Khaira had written a letter to Punjab Governor Banwari Lal Purohit about canceling the special session called by AAP for one day. It may be mentioned that the vote of confidence of the Hon'ble government was to be held in the Vidhan Sabha yesterday. Aam Aadmi Party MLA Prof. Baljinder Kaur has been made Chief Whip. MLA Prof. Baljinder Kaur has issued a whip for Aam Aadmi Party MLAs.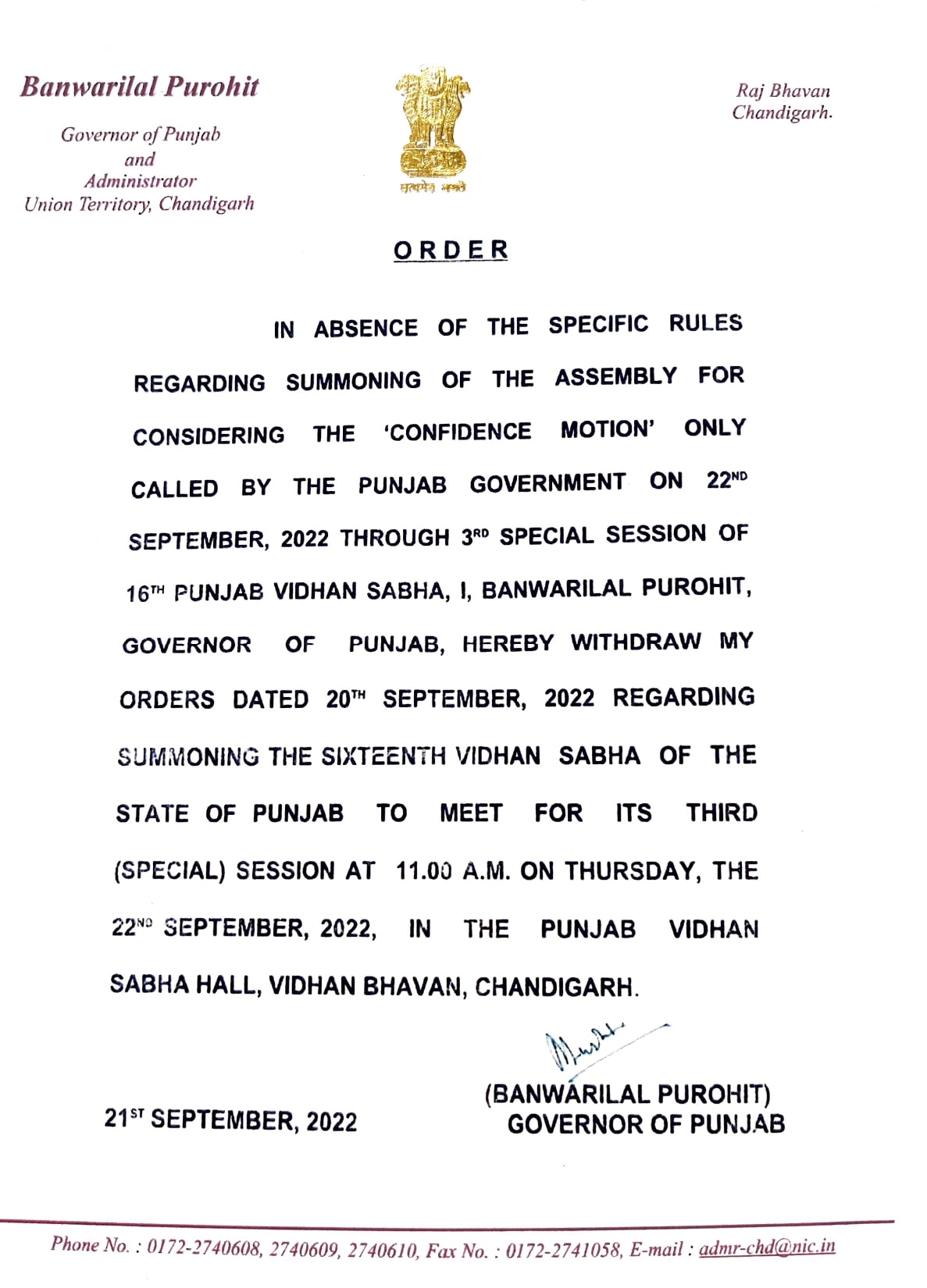 It is worth noting that the Punjab government under the leadership of Chief Minister Bhagwant Mann had decided to convene a special session of the Vidhan Sabha on September 22 (Thursday) to gain the confidence of the people of the state. The Chief Minister had said that the people of Punjab had given a strong majority to our government but some forces that undermine democratic values ​​are trying to woo our MLA with the help of wealth. That is why we have decided to gain the trust of the people of the state in this special session."
CM Mann had said that in this special session, attempts to overthrow the democratically elected government in Punjab will be exposed. The Chief Minister said that in Punjab, the dirty tricks of misrepresenting the MLAs with greed did not end because the MLAs themselves foiled their plans to derail the government.
Published by:Ashish Sharma
First published:
Breaking news in Punjabi first on News18 Punjabi. Latest news, live update news, read most reliable Punjabi news on website News18 Punjabi.
.