Have you heard about this unique bappa from Mumbai?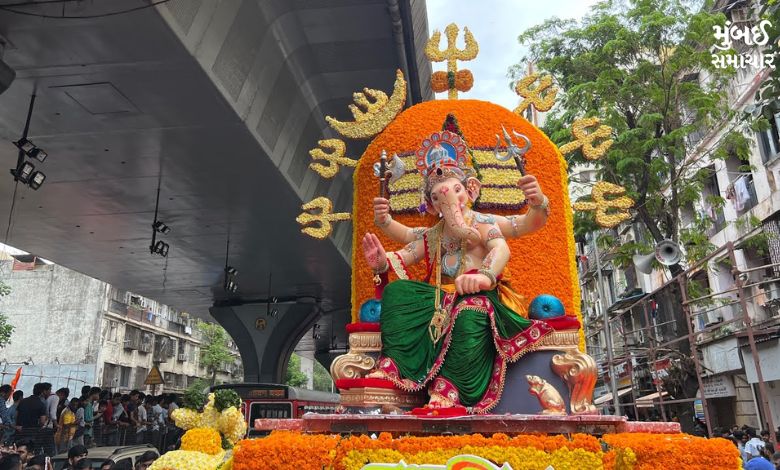 Mumbai: The Abhyudayanagar Public Ganeshotsav Mandal was established in 1957 in Abhyudaya Nagar, Kalachowki, Mumbai. The people of that time established this society with the aim of organizing the society in response to the call of Bal Gangadhar Tilak. Rathadish is held every year in the Samaj Mandir Hall of Shaheed Bhagat Singh Maidan in Abhyudaya Nagar.
This Bappa is famous among devotees as the Mumbai Cha Rathadish and has a height of seven and a half feet. Parel sculptor Siddhesh Digole made this idol. Apart from this, other notables like Kunal Patil, Raju Shinde also made this Bappa idol. A flower chariot is made at the arrival of Rathadish. Different types of chariots are made every year. This time Garuda's chariot was made and more than 100 kg of flowers were used for it.
During Ganeshotsav, lakhs of devotees throng to have darshan of Bappa and it is written in the scriptures that at that time flower garlands etc. should be offered. But Ganapati is the deity of learning and that is why it is recommended by the congregation to offer educational items to the devotees who come for darshan instead of garlands. Devotees also respect this request of the congregation.
These items are distributed to the students by going to the tribal areas. Apart from this, these students are also given Diwali snacks. The things offered at the feet of Rathadish help the students in their studies.
Apart from the 10-day fair during Ganeshotsav, apart from helping the needy during the Kovid period, various activities like camp for cancer awareness, assistance of one lakh and eleven thousand during the floods in Konkan, carrom, chess, painting, student felicitation ceremony during Diwali are also carried out.