HD Kumaraswamy emotional talks about Bhavani Revanna Fight For Hassan Assembly Ticket | Hassan Ticket Fight: Chaos in Hassan's house, Kumaraswamy speaks emotionally..!
Ticket Dangal of Hassan Kurukshetra in Dalkote has gone to another level. Bhavani Revanna has thrown a bomb that I have entered the arena in the battle arena. We have already announced tickets for four women, but HDK said as if the stick had been broken. The ongoing ticket in Tenemane has reached the level of Samara Kumaraswamy vs. Revanna Family. Regarding this matter, Kumaraswamy Kumaraswamy gave an emotional speech.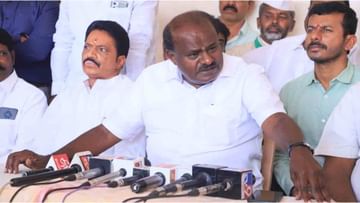 HD Kumaraswamy
Raichur: It is a stronghold of JDS. The confusion between the activists was flowing there, Devegowda's family was solving all the problems. But now the ticket fight has started in the same family. Especially Revanna's sons have given a tong to HD Kumaraswamy. Now this Hassan ticket fight has become a star, and former CM HD Kumaraswamy has spoken emotionally about this. Speaking in Raichur today (January 28), Kumaraswamy said, "Don't mention HD Deve Gowda's name in Hassan's ticket issue." I am an emotional being. Only we know what condition HDD is in. HDK spoke emotionally about HDD's health saying that I don't want Deve Gowda's life to be shortened.
Hassan Ticket Fight: Ticket turmoil in the house of Hassan Dal, Dev Goudru will roll the new political dice?
Hasan knows how to fix the ticket issue. But do not mention Devegowda's name for any reason. Our children may have said that Devegowda's decision is final. But no one knows what condition HDD is in. I am campaigning to bring 120 seats to JDS party. I want to win 120 seats and give a gift to those who have HDD. Hassan became emotional about politics as he did not want to create confusion and trouble them.
Commenting on Suraj's indirect tong, HDK said, "Our children heard Shakuni's words and spoke." It is not a big deal that our home children question us. They were all spoken by our boys. He clarified that we will sit at home and talk.
What happened in Mahabharata is also happening here. If this is the Mahabharata, I am an ordinary citizen. There is nothing wrong in what MLC Suraj, MP Prajwal said. I am focusing on the state. Revanna is looking at Hassan. Every work in Haasan has been done by myself and Devegowda. At home we decide who should take the decision. He said that he should not answer after discussing in the street.
HDK answered the media's question whether Kumaraswamy vs. Revanna is going on at this time, Kumaraswamy vs. BJP in the matter of Hassan Assembly. Till now I don't know Hassan. Kumaraswamy Vs BJP in Hassan Let's correct the activists who are protesting. He told me that it may be Swaroop or Bhavani and then I will tell you.
.