He went to the hospital on a scooter to save his friend's father, 3 Idiots is not a movie, this is a real story.
If you have seen Aamir Khan and Kareena Kapoor's all-time hit movie '3 Idiots', only one scene in it will catch your eye. In that film, Aamir Khan (Rancho) and Kareena Kapoor (Piya) take Raju's ailing father on their scooter to the hospital when his friend's father is unwell.
Now see the scene of the film actually happened
Yes, who can forget this iconic scene from '3 Idiots'? A decade after the blockbuster movie's release, see the iconic scene finally get a real-life rendition. This real-life scene was caught on camera and is now going viral on social media.
A video of two friends carrying a sick man on a scooter like Rancho and Pia is now doing the rounds on social media. Even in this video, two people can be seen riding a scooter with an elderly patient sitting in the middle like the scene of the film.
Also read: Do you know who found Rooh Afza Sherbat? There is an interesting story behind this!
While walking on the road, this rare sight has caught my eye.
Instagram blogger Shalu Kashyap was also walking on a road when this very rare sight caught his eye and immediately he captured these scenes on his mobile phone camera.
Sharing this video, Shalu Kashyap said, "3 Idiots scene just got real, all is well!" I also wrote a title for it.
This scene has gone viral
Since being shared online, the video has garnered 3,24,128 likes and millions of views. After watching this video, social media users flooded the comment section with various comments reliving their old memories.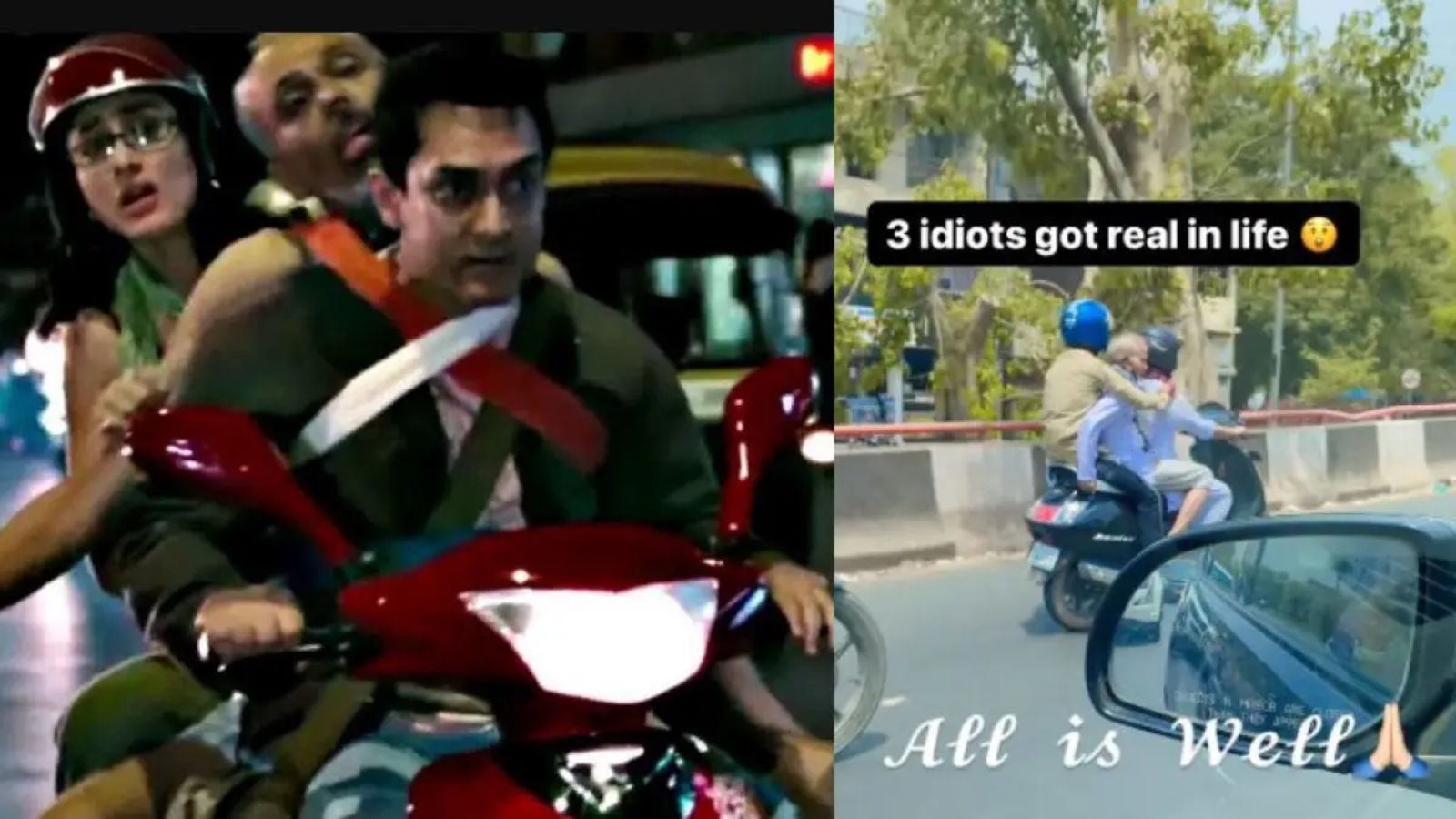 Scene from 3 Idiots and Viral Video
"Jane nahim denge tuje.. this song fragment is playing in my mind after watching this," commented a social media user referring to the song from the film. Another user commented "Raju rastogi ka baap".
Netizens have commented on this video
But instead of making a video of this scene, Shalu was brutally scolded by some netizens for not giving a lift to this person in his car.
Another social media user commented, "Instead of doing a reel of 3 Idiots, you could have given me a lift."
"Not everyone can afford a 4 wheeler, so it's not funny," wrote another user. Directed by Rajkumar Hirani, this film is one of the best films of Superstar Aamir Khan.
.