Heavy rain across Bengal, alert issued
Puber's Pen Correspondent: Multiple active weather systems, an active monsoon axis extending from Uttar Pradesh to Assam on one side, and a pair of cyclones formed in Assam will be a feast for the people of Bengal. In addition to heavy rains in several districts of North Bengal, heavy rains are also forecast in South Bengal. According to IMD Kolkata Weather Update, Yellow Alert has been issued in several districts of South Bengal. This heavy rain is predicted from 23rd to 25th.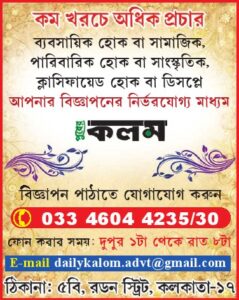 Heavy rain forecast has been issued in North 24 Parganas, South 24 Parganas, Murshidabad, Birbhum, East and West Burdwan, Nadia. IMD Kolkata has warned that there is a possibility of damage to cultivated land and crops due to heavy rains. Orange alert for heavy rain has been issued in Darjeeling, Kalimpong, Alipurduar, Cooch Behar, Jalpaiguri districts on Wednesday, August 23. Yellow alert of heavy rain has been issued in Malda, North and South Dinajpur districts. Cyclonic circulation is widespread over Madhya Pradesh and adjoining areas. It extends up to the middle troposphere level. On the other hand, active monsoon axis extends northwards from its own location. There will be no significant change in this situation in the next 7 days.