Hoskote: Father-in-law stabbed by son-in-law who came to ask about dowry harassment | Hoskote: Dowry harassment, son-in-law stabs father-in-law who came to ask
A man named Mohana of Doddanalla village of Hoskote taluk started harassing his wife for dowry after three years of marriage and stabbed his father-in-law who came to ask for it.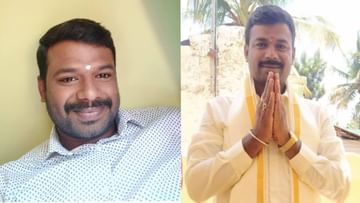 Son-in-law Mohana
Bangalore countryside: A man named Mohana of Doddanalla village of Hoskote taluk of the district had married a girl named Bhavani from neighboring Andhra in the context of Corona three years ago with the consent of her family. Within 3 years, he started harassing his wife for not giving dowry. For this reason, the family came to the son-in-law's house and questioned him. At this time, there was an argument between the two families and the argument turned violent and the brother-in-law who asked the question broke his leg and attacked him on the field.
First, the family members including Bava Maida were attacked in the village and the victims came to Hoskote Government Hospital for treatment. At this time, the son-in-law Mohan and his family members, who had also come to Aswatre, again attacked the woman's family members who were near Aswatre. Therefore, the family members of the woman who was injured in the attack received treatment at Hoskote hospital and then admitted to Bangalore hospital for further treatment. The family of the woman alleged that Mohan had recently had an immoral relationship with someone else and harassed our daughter and assaulted us for questioning it.
Also Read: 6 people stabbed by assailant at Paris train station
It is really ironic that a woman who was supposed to live a happy marriage for a hundred years, turned into a villain after three years of her husband's marriage. In this regard, the Hoskote police have registered a case and have taken the accused into custody and are continuing the investigation.
Report: Naveen TV9 Devanahalli
Click here for more Rajya news
.