If the meeting is not allowed, the long march may be announced, Sheikh Rashid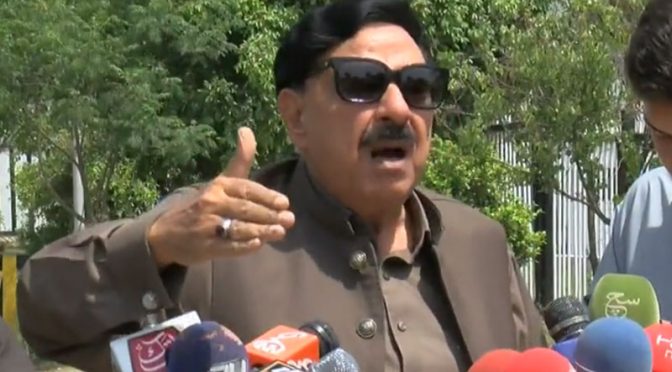 Lahore: (Web Desk) Former Interior Minister Sheikh Rashid hinted at the announcement of an early long march by PTI.
Awami Muslim League chief Sheikh Rashid has said that if the meeting in Faisalabad and Multan on May 20 was not allowed then the long march could be announced.
He says that the present government is fascist, this dictator has gone even further than the government. People are moving towards long march, announcement may be made soon. If force is used then PTI will rise even more.
He said that PTI arrests would be made from May 17 to 18. The government wants to worsen the situation in the country. This government is going to be exposed so it is moving towards anarchy.
He said that the country was heading towards anarchy. Pakistan was heading towards non-payment. The country is being pushed towards civil war. The next 15 days are very important in politics. Those who think institutions are weak and ignorant are blind.
He said that the conspiracy that was hatched for Imran Khan and the stronghold of the opposition fell into it. Asif Zardari took back the old loan from PML-N with interest.
He has said that he is not running the government, this government has 2 votes. The London Yatra will further strain the N-League and make the country default.
He said that Shahbaz and Hamza were to be charged today in money laundering case. Money laundering case hearing is being postponed on the pretext of force and excuse.
He said that DG FIA Sanaullah Abbasi was removed. DG FIA Sanaullah Abbasi had refused to withdraw the money laundering case.