Iftikhar ahmed shakib al hasan world record partnership in bpl 2023 | 15 sixes, 15 boundaries, partnership of 192 runs! Shakib-Iftikhar broke the world record
In the 18th match of Bangladesh Premier League, Fortune Barisal defeated Rangpur Riders by a huge margin of 67 runs. Iftikhar Ahmed scored an unbeaten 100 off 45 balls for Fortune, while captain Shakib Al Hasan scored an unbeaten 89 off 43 balls. Based on the brilliant innings of these two batsmen, Fortune Barisal team […]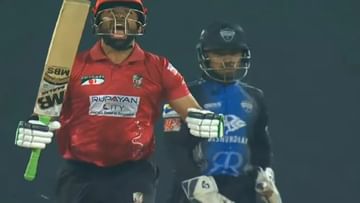 Shakib-Iftikhar broke the world record
In the 18th match of Bangladesh Premier League, Fortune Barisal defeated Rangpur Riders by a huge margin of 67 runs. Iftikhar Ahmed scored an unbeaten 100 off 45 balls for Fortune, while captain Shakib Al Hasan scored an unbeaten 89 off 43 balls. Based on a brilliant innings by these two batsmen, Fortune Barisal team set a huge target of 238 runs. Chasing this target, Rangpur Riders were bowled out for 171 runs. The pair of Shakib and Iftikhar who made a record partnership for the Fortune team also broke the biggest world record.
In fact, the pair of Shakib Al Hasan and Iftikhar Ahmed now hold the world record for the highest fifth-wicket partnership in T20 cricket. In this match, Iftikhar and Shakib shared a world record of 192 runs in 86 balls for the fifth wicket.
IND vs NZ 2nd ODI: Team India players reach Raipur: Gear up for 2nd ODI
Shakib-Iftikhar broke the world record
Earlier, Birmingham Bears players Hoss and Mosley had set the record for the highest T20 fifth wicket partnership with a partnership of 171 runs for the fifth wicket. Apart from him, Hashim Amla of South Africa and Dwayne Bravo of West Indies shared a partnership of 150 runs for the fifth wicket to take the 2nd position. But now this record is recorded in the name of Iftikhar and Shakib Al Hasan.
Iftikhar-Shakeeb attack
Fortune Barisal, who batted first in this match, lost 4 wickets in the powerplay and was in trouble. But then the Iftikhar-Shakib partnership dealt effectively with the opposition bowling unit. The duo not only hit 15 sixes and 15 boundaries but also batted at a strike rate of 200. As a result, the team set a huge target of 238 runs. Iftikhar Ahmed completed his maiden T20 century in just 45 balls, while Shakib played a brilliant innings despite failing to score a century.
With this win, Fortune Barisal team has reached the second position in the points table. Fortune Barisal team has won 4 of their 5 matches so far. On the other hand, Rangpur Raiders have suffered their third defeat in 5 matches and are fourth in the points table.
Here for more sports news Click
.