Italy: When the plane became unbalanced in the air, the pilot jumped with a parachute, the plane rammed into a car, a 5 year old girl died – Italy Military Jet Crashed Hit Car A Three Year Old Child Died Defense Minister Guido Crosetto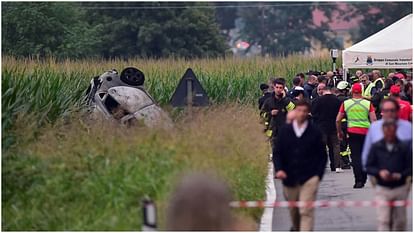 Italian military jet crashed
– Photo: Social Media
Expansion
A five-year-old girl has died after a jet lost balance and crashed into a car during military exercises in Turin, Italy. Actually, when the military jet collided with the car, a family was present in the car. Information about the accident was given by Defense Minister Guido Crosetto.
According to an Italian media, an eight-year-old brother of the deceased has been seriously injured in this accident. The condition of the child's parents and the jet pilot is fine. The ministry has expressed grief over this accident.
Crosetto issued a statement saying, 'The ministry expresses its condolences to the family. We had provided every facility to deal with the emergency and protect the people involved. Whereas Deputy Prime Minister Matteo Salvini posted on social media platform X that the pilot had jumped from the jet with the help of a parachute. He has described this incident as very horrifying.