Jalpaiguri TMC Clash: 'Trinamool company is good, product is good, but hawker is bad', to whom Trinamool leader points?
TMC Group clash: Trinamool leader of Jalpaiguri Scheduled Tribe Krishna Daser made a scathing comment on housing corruption issue. Said, "The one who bribes is guilty first. The leader is guilty later."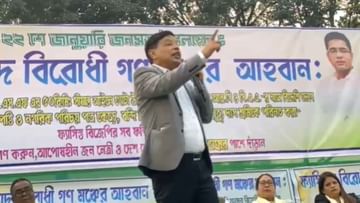 Controversial comments by Trinamool leader (own image)
Jalpaiguri: The ruling party (TMC) has repeatedly been implicated in the Awas Yojana Scam. The opposition and common people complained that the deserving did not get houses. Complaints were coming from different parts of the state that the leaders are giving houses to the incompetents with money. Jalpaiguri scheduled caste leader Krishna Daser made an oblique comment on the housing corruption issue. He said, "He who gives bribe is guilty first. The leader is guilty later."
There was a public meeting called by the Trinamool-dominated Anti-Fascist Gana Manch in Patkata Gram Panchayat area of ​​Jalpaiguri Sadar Block on Sunday afternoon. In that meeting Trinamool leaders came from different districts of the state. Trinamool STSC OBC Cell Jalpaiguri District President Krishna Das warned the villagers in this way from the forum that day.
Krishna Das said, "You will also give money. If it doesn't work again, you will defame the Trinamool. It can't go on." At the same time he further commented that Trinamool Congress is a good company. This company's product is good. But the product's packaging is bad." Then he said about his party, "This is the situation today for the character of our leaders. Our leader gets many posts and misbehaves with people. Threatening people and saying I am the block president. I am the district president. I am the district secretary. Do you know me? I'll take a job in a minute. They are the ones who are weakening the Trinamool."
BJP's statement in the whole incident, "Trinamool is actually a money-making company. Everyone in this group is a thief. There is only one post in their group and everyone else is a lamp post. They keep 25 percent of what they steal for themselves and send the rest to Kalighat. People know everything. Don't trust them anymore. So there is no point in saying these things."
.