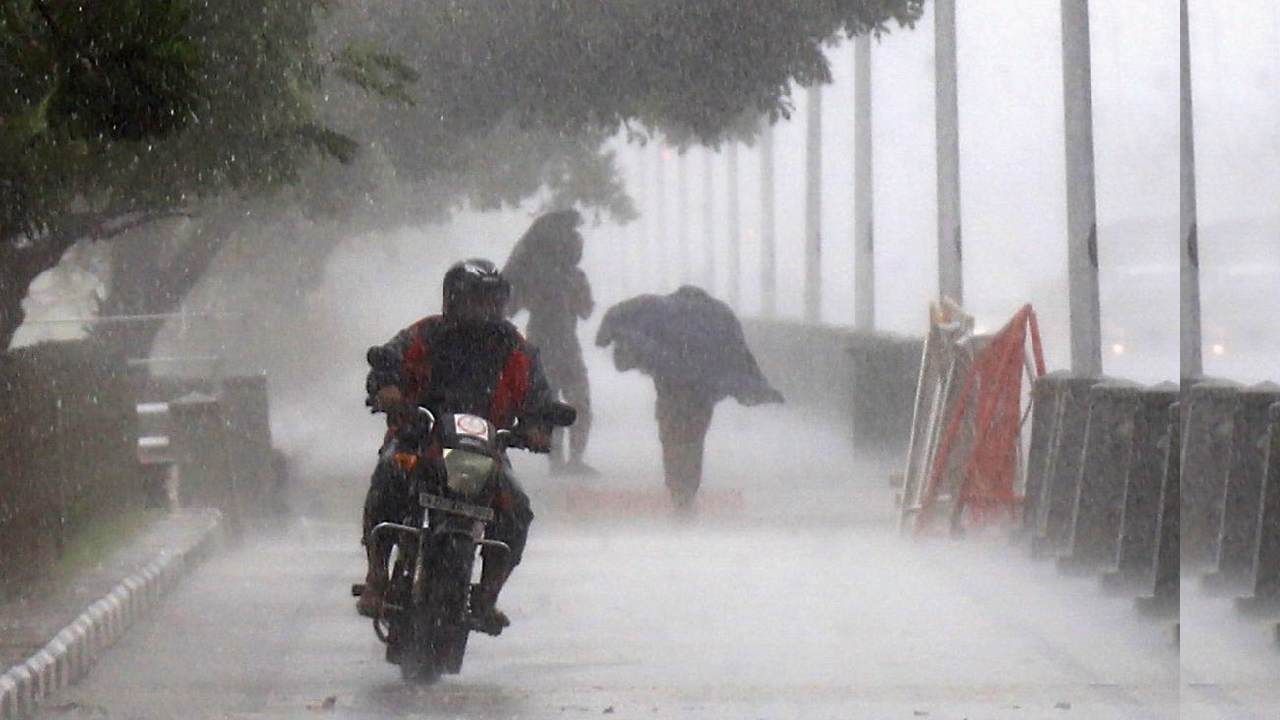 Rain in Karnataka
Karnataka Weather Today: Rainfall in coastal, highlands The Orange Alert has been announced until the 26th. Yellow Alert announced in North Karnataka till Sunday

BENGALURU: Rainfall has already increased in coastal, Kodagu and Malnad. Rainfall in Karnataka (Karnataka Rains) will continue for 3 more days. Until June 26, Dakshina Kannada, Uttara Kannada, Udupi, Shimoga, Chikmagalur, Hassan, Kodagil Rain Will increase. Thus, a 3-day Orange Alert has been announced in the coastal highlands. The Orange Alert has been announced till June 26 in coastal Karnataka. Yellow Alert has been announced in parts of Northern Karnataka till Sunday.
In the state's Dakshina Kannada, Chikmagalur, Udupi, Uttar Kannada, Udupi and Shimoga districts, tourists have already been advised not to visit the beaches and waterfalls of the district. Heavy rain is expected in more than 10 districts including Uttara Kannada, Dakshina Kannada, Udupi and Chikmagalur, Kodagu, Hassan and Shimoga. June has seen the worst rainfall in the last 10 years in Bangalore.
Read more: Karnataka Rain: Thundershowers in 10 districts including Bangalore, Shimoga and Coastal
It has been raining for the past few days in parts of Karnataka. Heavy rains have been recorded in coastal districts, with heavy rainfall forecast for the coastal region till June 26. The Indian Meteorological Department has said that thunderstorms are expected in Udupi, Uttara Kannada and Dakshina Kannada districts. The three-day Orange Alert has been announced for these three districts.
Intense spell rainfall is very likely to continue along the west coast for the next 5 days.

Subdued rainfall activity over Northwest & adjoining Central India till 25th June, 2022. pic.twitter.com/0tKmRJNGYC

– India Meteorological Department (@Indiametdept) June 23, 2022
Zoo in Bidar, Kalaburagi, Raichur, Belgaum, Bagalkot, Dharwad, Vijayapura and Haveri districts. Heavy showers are expected along with thunderstorms on 25th and 26th June. Given a two-day 'Yellow Alert'. Agricultural activities have already begun in this area.
The Orange Alert has been announced in Uttara Kannada, Dakshina Kannada and Udupi. Yellow Alert has been shouted in other districts of Karnataka's northern suburbs. The Orange Alert has been announced from June 26 to June 26 in the wake of the rains. The coastal district is the home of Varuna in Uttara Kannada.
Also Read: Karnataka Rain: Yellow Alert Declaration In Dakshina Kannada, Uttara Kannada, Udupi; Heavy rain in the highlands
Thundershowers will also be felt in the districts of Vijayapura, Bidar, Belgaum, Bangalore in the north, Bangalore rural, Bangalore rural, Chamarajanagar, Chikballapur, Hassan, Kodagu, Mandya, Mysore, Tumkur and Ramanagar districts. Thus, these districts have been issued a 'Yellow Alert'. Udupi, Uttara Kannada and Dakshina Kannada districts have been issued with an Orange Alert today.
Rainfall in Bangalore:
Bangalore recorded 198.5 mm rainfall since June 1 this year. It broke the previous record of 10 years and recorded this month as the worst rainfall of the decade. In June 2016, Bangalore recorded 191.3 mm of rainfall. That record was broken this year by 198.5mm of rain in June this year.
10:00 AM Update #Bengaluru:

SWM clouds 😍😍

Low clouds sweeping in from the West

With very light passing conditions, the city over prevails.#BangaloreRains #BangaloreWeather #BengaluruRains #Bangalore #BengaluruWeather #BengaluruRain #BangaloreRain #Monsoon pic.twitter.com/QCz7lOL3Zr

– Karnataka / Bangalore Weather 💛❤️ (@Bnglrweatherman) June 23, 2022
Rain in which states today ?:
Heavy rains are likely in Konkan, Goa and coastal Karnataka today. Heavy rainfall is expected in Vidarbha, Chhattisgarh, Bihar, Jharkhand, West Bengal, Sikkim, Odisha, Arunachal Pradesh, Assam, Meghalaya, Nagaland, Manipur, Mizoram, Tripura, Central Maharashtra, Northern Karnataka, Kerala.
Thunderstorms and thunderstorms are also forecast in Andhra Pradesh coast, Yanam, Mahe, coastal and northern Karnataka, Kerala, Mahe and Lakshadweep. Heavy rains are expected along Maharashtra, Goa, Karnataka, Kerala's coast and Lakshadweep. The Met Department has forecast heavy rainfall over the next 3 days in Konkan, Goa, coastal Karnataka, Kerala and Maharashtra.
.