Kasaragod: Kerala police seizes huge quantity of fake currency notes from an empty house Kasaragod: Kerala Police seized huge quantity of fake notes from an empty house
Kerala Police on Thursday seized a large quantity of banned fake notes of Rs 1000 from a vacant house. The incident took place in the Badiyadka police station of Kasaragod district.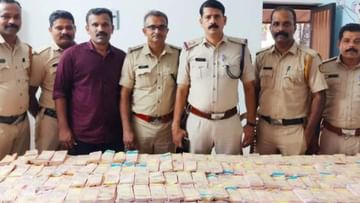 Kerala police seized the fake currency
Kerala: Huge quantity of banned fake notes of Rs 1000 in a vacant house (Fake Currency Notes) The Kerala Police seized it on Thursday. The incident took place in the Badiyadka police station of Kasaragod district. The police said that banned fake notes of Rs 1000 were seized. The police have expressed suspicion that real estate dealers are behind this. Badiyadka SI K.P. Vinod Kumar said that a team of police led by SI Mathew, ASI Madhavan and CPO Dinesh raided the vacant house at night on the basis of certain information about suspicious activity. Currencies stored in the form of a mattress were discovered during the raid. The police informed that the fake notes found in this way can be filled in six big bags.
In some bundles of money, white papers were placed inside the fake notes. According to the preliminary investigation, some real estate dealers are said to be behind this and doubts have been raised about their having enough money. Currently, the police have not arrested anyone in connection with the case.
Also read: Mangalore News: A woman died after being hit by a private bus while crossing the road in Mangalore
A 21-year-old man died after falling from the 14th floor
Mangalore: A 21-year-old youth fell from the 14th floor and died near KPT in the city. Mangalore police have registered a complaint about the incident. The cause of the youth's death is yet to be ascertained. Police officials said that an investigation is being conducted in this regard.
Mohammad Shamal (21), son of Abdul Salim, who lived on the 14th floor of the apartment, unfortunately died in the incident. Locals informed that Shamal fell down and died around 4.45 am today (March 30). His body was shifted to AJ Hospital. A case has been registered in this regard as per the complaint filed by the deceased's uncle.
Accident between two bikes, one dead
An accident took place between two bikes in which one biker died on the spot in Belthangadi in Dakshina Kannada district. Another biker was seriously injured. A head-on collision occurred between two bikes near Savanalu Masjid in Beltangadi taluk, and Hendry D'Souza (62), a resident of Kurdalabettu in Aladangadi, died on the spot. Another biker, Karunakara Hegde (60), a resident of Karambaru in Belthangadi taluk, sustained serious injuries and was admitted to a private hospital in Guruwayanakere for treatment.
Also Read: Odisha: 15-year-old boy kidnapped and murdered for Rs.50 lakh; Dharmendra Pradhan condemned the government
Deceased Henry D'Souza has two sons and a daughter. The dead body of Hendry D'Souza was taken to Beltangady Government Hospital Mortuary. Sub-Inspector Santosh and the staff of Belthangadi Traffic Station visited the incident site and the hospital and conducted an investigation.
Read more crime news Click here.
breaking news
.