Mumbai
: A photo of actor Yash, a well-known actor in southern cine industry (Actor Yash Photo Viral) is currently going viral on social media. In this photo, Yash has an orange shawl on his shoulders, while a tilak is also visible on his forehead. The reason behind this photo going viral is that some netizens have made a claim while sharing this photo. It is being claimed on social media that Yash has given a fund of 50 crores for the Ram Mandir Ayodhya under construction in Ayodhya.
Read this-What exactly happened at KRK Hospital hours after the arrest?
What is said in this viral post?
The post shared a photo of actor Yash with the caption, 'South's superstar actor Yash Kumar reached Ayodhya today to have a darshan of Shri Ramji and announced a donation of Rs 50 crores for the construction of the Ram temple. This is also one of the reasons for the growing love for these people.'
This photo is going viral on social media. Currently, when the trend of boycotting Bollywood heroes is going on, this viral photo is becoming a topic of discussion. This photo is going viral on Twitter as well as Facebook.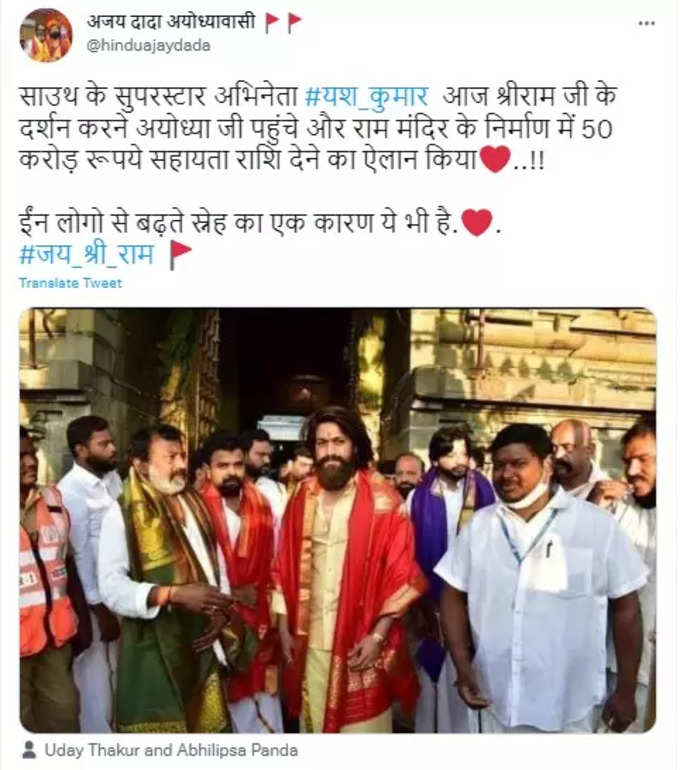 What is the truth behind the viral photo?
After checking the truth of this photo, different information came out. This photo is not recent but from April 2022. According to media reports, this photo is dated April 11, and it is not from the Ram temple in Ayodhya, but from Tirupati Balaji Temple in Andhra Pradesh. The picture was taken when the actor visited the temple before the release of KGF 2. But now this photo is being used to spread wrong information. The person who shared this photo on social media is also being trolled a lot.
Read this-She's going to conquer the world… Her boyfriend never gets tired of praising Sai Tamhankar
Meanwhile, there is no official news that Yash has given any funds for the Ram temple in recent times. So the claim made in this social media post is completely false.

.