Madhya Pradesh: The owner of a Dalit man's hand cut off asking for ₹ 9000 in salary arrears | Madhya Pradesh Dalit construction worker asked for pending wages employer chopped off his hand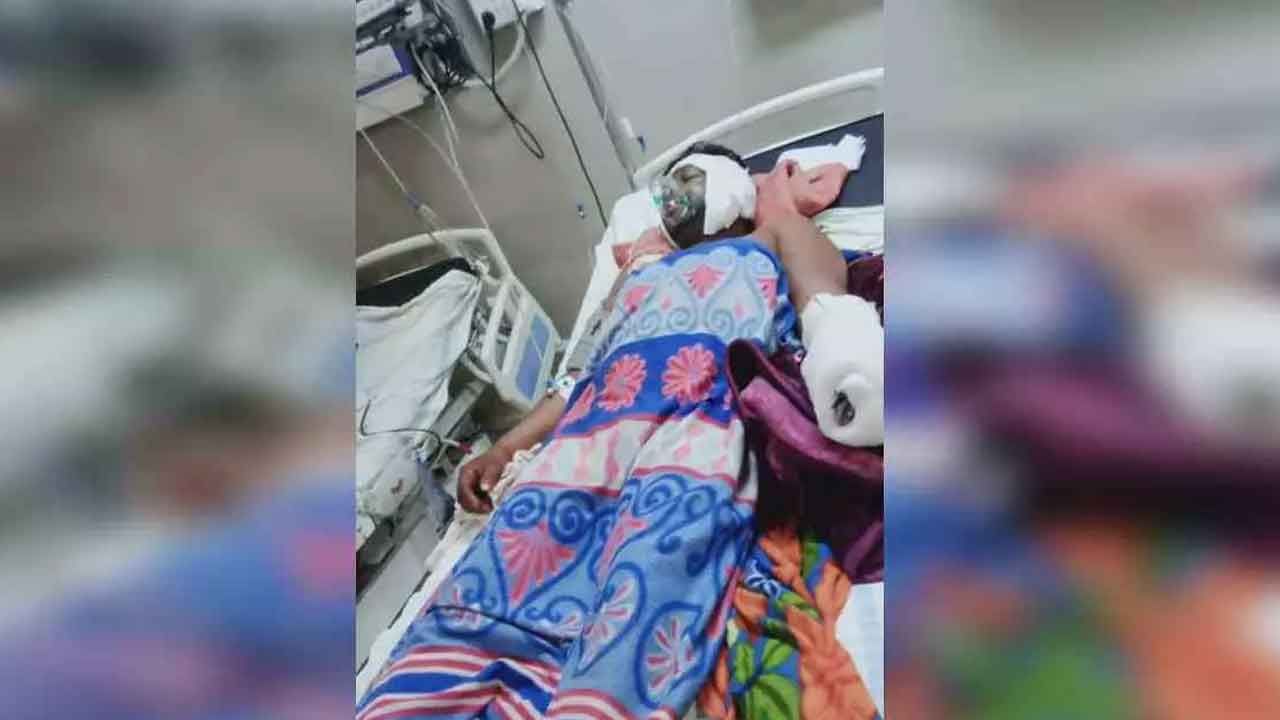 Ashok Saketh
Bhopal: Ashok Saket, a 45-year-old Dalit builder, has been recovering for the past three days after undergoing intensive surgery to reconstruct his left arm at a government hospital in Rewa district of Madhya Pradesh. Last week, his employer reportedly cut his hand. The owner has cut his hand when Saketh asked for his dues. Saketh is now holding a bed with an oxygen mask. His family is praying for a speedy recovery and asking for justice. The incident took place on November 20 at Dole village in Rewa district, about 500 km from the capital of Madhya Pradesh, Bhopal. Saketh had gone to his employer Ganesh Mishra's house along with his friend Satyendra Saketh to demand a salary. Mishra is said to have cut the worker's hand with a sword.

Ashok's brother Shivakumar Saketh is also a laborer and is looking after him in the hospital. "The attack was unexpected," Sivakumar told IANS.
"When my brother was going out that day, I asked him," Where are you going? " He replied that Ganesh Mishra had called to pay the outstanding wages. He said he went out around 11:30 in the morning and that the incident happened around 1am.
Shivakumar said there was no animosity between Ashok and his Mishra. Ashok was working as a master at Mishra's house under construction. According to Shivakumar, employer Mishra Ashok has not been paid salary for five months.
A Sub-Divisional Police Officer at Sirmour, PS Paraste, said Mishra had to pay Ashok about Rs 15,000 as salary. He has already paid Rs 6,000. When Ashok went to fetch the remaining Rs 9000, the accused, in a fit of rage, pulled out a sword from under his bed and tried to hit Ashok's shoulder and head. Shivakumar said Mishra refused to pay.
The man with Ashok (Satyendra Saketh), the victims and the accused did not fight much. Mishra said he would not give money. Ashok said I should have worked and paid the salary. When Mishra said that he was here, Ashok thought he was bringing money from home. They did not know that Mishra would attack them with the sword, "he said.
"When my brother held his hand (to protect himself), his hand was cut off. There was a scar on his ear, when Mishra stepped forward to attack for a second while another man fled the scene. He told me that my brother ran, though it was handcuffed.
Ashok was first taken to Sirmur Hospital, then to Reva's Sanjay Gandhi Memorial Hospital.
Parasta, the case investigator, said police faced two challenges – arresting an accused and finding a severed hand. The severed hand was found about 150 meters from the scene of the crime. He was then sent to the hospital for surgery. The accused, his cousin Krishna Mishra and brother Ratnesh Mishra, were arrested the same day.
"Our main goal was to arrest the accused. We got the help of a cyber cell as they switched off the phone. We started interrogating their family members. We thought we were receiving calls from the accused. As we expected, the accused's father's phone rang. He was calling from his uncle's phone. We tracked him down. We even found the sword, "said Parasthe.
The three accused, Ganesh, Krishna and Ratnesh, are charged under Section 307 (attempted murder) of IPC, 201 (disappearance of criminal evidence), 34 (acts committed by several persons for general purpose), Section 3 (2) (v) of SC / ST (Prevention of Atrocities) Act. The case is documented.
'Deep-Rooted Caste Prejudice'
Shusheel Shinde, a Dalit rights activist in Madhya Pradesh, said the reason behind such attacks is deeply rooted caste biases. "Ashok I belong to the community. I feel it and understand it. I know how they are (upper caste) mentality. For centuries they have had the mentality that Dalits are their servants. The reason for such events is the attitude of upper castes. Ashok was from a different community and was thinking of attacking, "he said.
"There is a dominance of Brahmins here. They employ poor laborers but they are denied salaries. This is not only Mishra, but for every person in the community." Wherever we work, we are not entitled to ourselves. What would you do if we didn't pay? He will question us, "Shivakumar said.
He said Ashok had been assaulted for being called a lower caste. "The villagers told me that he (Mishra) was a hooligan, harassing everyone, including the poor." My brother is so badly injured that he will never be able to work again. "My demand among the authorities is to punish the criminals harshly," Sivakumar said.
ALSO READ: Galvan clashes Galvan martyr Colonel Santosh Babu's posthumous superhero chakra, ivory hero chakra


news from:National Latest Kannada News,National News in Kannada TV9 kannada | TV9 Kannada
#Madhya #Pradesh #owner #Dalit #mans #hand #cut #salary #arrears #Madhya #Pradesh #Dalit #construction #worker #asked #pending #wages #employer #chopped #hand