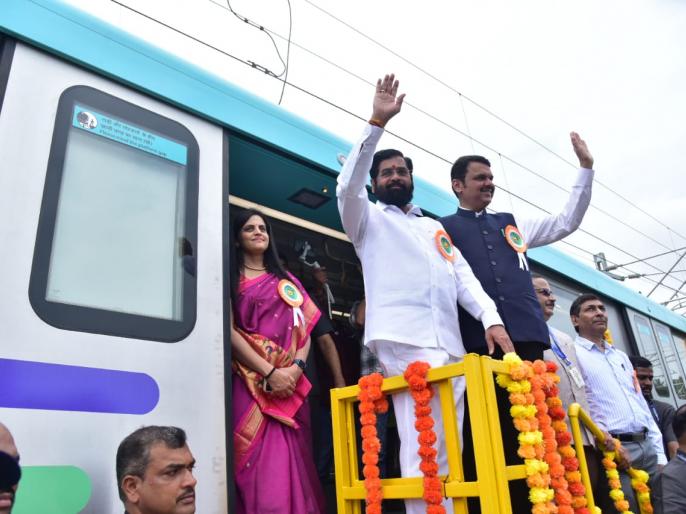 Mumbai: The trial run of Mumbai Metro-3 was finally completed at Sariputnagar in Aarey as the Shiv Sena and BJP clash over Aarey car shed. The trial run of Metro-3 was flagged off in the presence of Chief Minister Eknath Shinde and Deputy Chief Minister Devendra Fadnavis. After this, while congratulating the Shinde-Fadnavis government, the BJP leaders have criticized the Thackeray government of the previous Mahavikas Aghadi.
BJP leader Atul Bhatkhalkar, while congratulating Eknath Shinde and Devendra Fadnavis government on Twitter, targeted the Maha Vikas Aghadi government. P.S. Hariom Eka Swapna… Chief Minister Eknath Shinde and Deputy Chief Minister and our leader Devendra Fadnavis, MMRCL Managing Director Ashwini Bhide inaugurated the metro trial. Atul Bhatkhalkar tweeted that after two and a half years of darkness and arrogance, the era of development has re-incarnated. Earlier, Eknath Shinde targeted Aditya Thackeray during this trial.
All political pollution is gone
Vighnahartya Ganaraya is coming. But even before Bappa came, the big obstacle facing Mumbaikars has been removed. Now there will be no disruption in the work of Metro-3. It is the government that takes positive decisions regarding infrastructure keeping in mind the benefit of the common people. Metro-3 is going to be the new lifeline of Mumbaikars. Hence, a government has come which takes decisions for the benefit of the people. It was argued that this metro will cause environmental degradation. But now all the political pollution is gone, Eknath Shinde took a dig at former Environment Minister Aditya Thackeray.
Meanwhile, protecting the environment is everyone's responsibility and everyone cares about it. Not that only certain people care. Now when I came to this place, I saw that there are roads on three sides. The manner in which environmental degradation has been claimed has not happened and even the Supreme Court of the country gives judgments in the interest of the citizens of the country. Metro-3 will benefit Mumbaikars a lot. Women, senior citizens travel with difficulty in local trains. Also, tired of the crowd, people decided to buy their own vehicles. But we need to strengthen public transport in the state. So that people don't have to take their vehicles out.
Web Title: bjp leader atul bhatkhalkar criticized maha vikas aghadi and uddhav thackeray after mumbai metro 3 trial
Get Latest Marathi News , Maharashtra News and Live Marathi News Headlines from Politics, Sports, Entertainment, Business and hyperlocal news from all cities of Maharashtra.
.