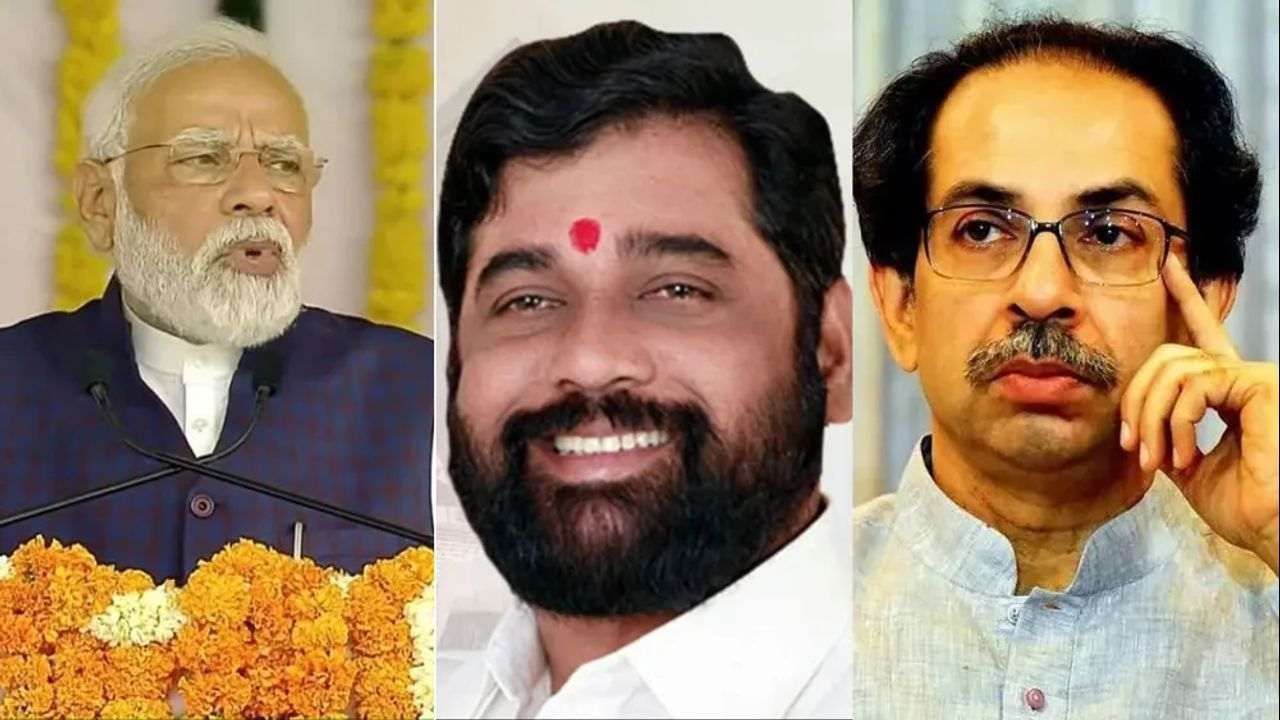 PM Narendra Modi Eknath Shinde CM Uddhav Thackeray
The BJP has to think that they should not be in the role of wait and wait and their feet should slip off the ground. Don't forget that anything can happen in Maharashtra as long as there is Sharad Pawar.
Maharashtra Political Crisis: Now the case only Great development front (MVA) Not only the collapse of the government, but also the crisis of the Shiv Sena's existence. Out of 55 MLAs of Shiv Sena, 39 MLAs are standing with Eknath Shinde group today. In such a situation, after the Supreme Court decision and after the BJP's core committee meeting, Shinde group spokesperson Deepak Kesarkar said one thing clearly while talking to our associate news channel TV9 Marathi. Deepak Kesarkar said that there is only one solution to the current crisis. That is, Shiv Sena chief CM Uddhav Thackeray (CM Uddhav Thackeray) Should stand up and tilak Eknath Shinde and PM Narendra Modi (PM Narendra Modi) And form a coalition government of BJP and Shiv Sena.
Deepak Kesarkar said that this is not surprising. CM Uddhav Thackeray was to make an ordinary Shiv Sainik CM anyway. After the 2019 elections, even if Eknath Shinde had become the CM, NCP chief Sharad Pawar would not have stopped Uddhav Thackeray from doing so. In the Shinde group formula, the Shiv Sena will have a chief minister and a BJP deputy chief minister in the BJP-Shiv Sena government. That means Eknath Shinde will be the Chief Minister. The BJP wants to make him the Deputy Chief Minister.
The second formula is that Shinde should become the CM and support the BJP from outside. It is doubtful that the BJP should accept the Shinde faction's formula. In such a situation, another formula could be that Eknath Shinde becomes the Chief Minister from Shiv Sena and forms his own government. The BJP should support him from outside. With this, BJP will be able to keep Congress and NCP out.
When all plans fail, Pawar's game begins
If even this formula doesn't work then Pawar's formula can do the trick. On Monday, Uddhav Thackeray held an important meeting with senior leaders of the NCP and Congress. After coming out of the meeting, Congress state president Nana Patole and senior Congress leaders looked very confident. Both said the frontline government would complete its 5 years in any case. It has been reported that Uddhav Thackeray had agreed to resign on the second day of the Shinde rebellion on June 21 and then on June 22. But when four leaders, including Sharad Pawar and Sanjay Raut, persuaded him not to do so, he stopped.
This was followed by news that Sharad Pawar had explained to Uddhav Thackeray that there was no harm in making Eknath Shinde CM if the government wanted to save him. Along with this, he will also become the CM of Shiv Sena and the Aghadi government will also continue for five years. Then the BJP has to think that they will not be in the role of wait and their feet will slip off the ground. Don't forget that as long as there is Pawar, anything can happen in Maharashtra.
.