Marathwada has never seen a Mahavirat meeting, 16 CCTV cameras; Know, ground report of the meeting – Maha Vikas Aghadi hold Public Meeting in chhatrapati sambhaji nagar
A large number of Congress workers have left for Sambhajinagar under the leadership of former Chief Minister Ashok Chavan for today's meeting. 60 thousand Shiv Sainiks have left for Sambhajinagar from Nanded along with Hingoli under the leadership of Thackeray group's contact chief Babanrao Thorat.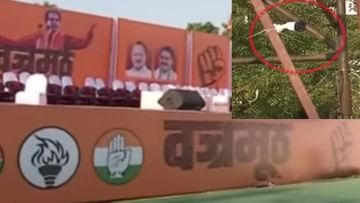 Maha Vikas Aghadi
Image Credit source: tv9 marathi
Sambhajinagar : Only a few hours are left for the public meeting of Mahavikas Aghadi to be held at Sambhajinagar. All preparations for this meeting have been completed. A grand assembly hall has been constructed. Thousands of chairs have been placed in the grounds of the Marathwada Cultural Board. 16 CCTV cameras have been deployed at the venue itself. Traffic routes have been changed. Banners, posters, hoardings have been put up everywhere. A heavy police force has been deployed throughout the city. People have started gathering in the field since afternoon. Mahavirat Sabha, which Marathwada has never seen, never happened in the history of Marathwada, will be held in Sambhajinagar. Therefore, everyone's attention has been drawn to this meeting.
.