mysuru today news update 23 september 2022 mrq
1.Exemption of tax for inter-state vehicles
To witness the world famous Dasara (Mysuru Dasara 2022), people from other states come to various tourist spots in Mysuru city and district. The number of tourists increases during this time. The district administration has taken all measures to ensure that tourists arriving in Mysore are not disturbed. Three special trains (Railways) have already been planned for Mysore city. The state government has issued an order giving tax exemption to tourist vehicles coming from other states to see Mysore, Mandya, Srirangapatna, KRS. This exemption will be available from September 29 to October 6.
2. Industrial Dussehra, huge advantage for business
Industrial Dussehra will be held from September 26 to September 30. This is the first time that 'Industrial Dussehra' has been organized to attract interest in the industrial sector, to attract investors and to provide information to students. Industrial Dussehra will be held from September 26 to September 30. Seminars and information workshops will be held in this program.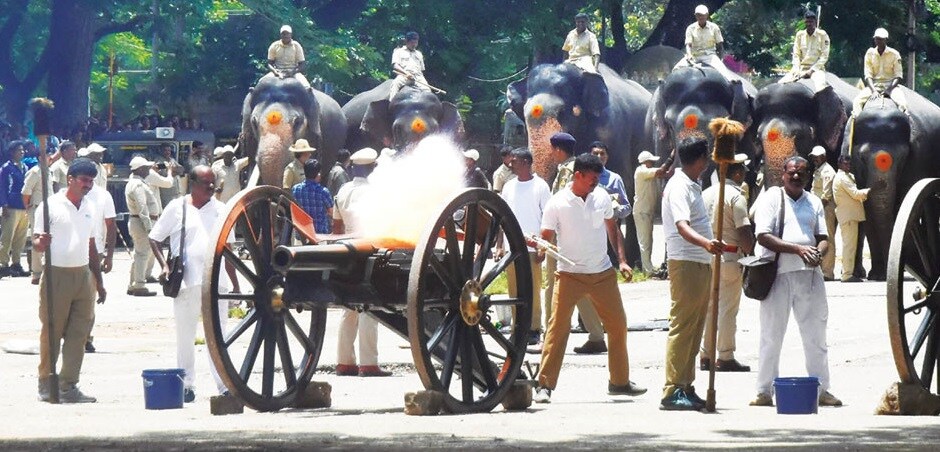 Explosive training for Gajapade (Photo courtesy-Facebook)
Various departments working for industrial development and bank officials will provide necessary information to facilitate those who want to start self-employment and entrepreneurs who are currently working.
3. Exercise the elephant today by carrying a wooden shed
Today Dussehra elephants can be trained. The Jambo ride will be launched on 5th at 5 pm. So elephant Gopalaswamy was trained by carrying a wooden shed. Electric lights have been installed in the city and the palace. In today's training, electric lamp wires hit the wooden barn in many places. Immediately alert officials were instructed to remove the wire and wires placed at the lower level in the middle of the Ambari route. For the first time, the cavalry took part in the training.
yard guard
4. Route change of buses entering and leaving Mysore
Vehicular traffic increases in Mysore city for more than a week on the occasion of Dussehra. In this background, KSRTC has made some changes in the route applicable to rural and urban transport in order to provide a smooth traffic system. This route change will be from 26-09-2022 to 03-10-2022 daily from 4 pm to 11 pm. The route change is as follows.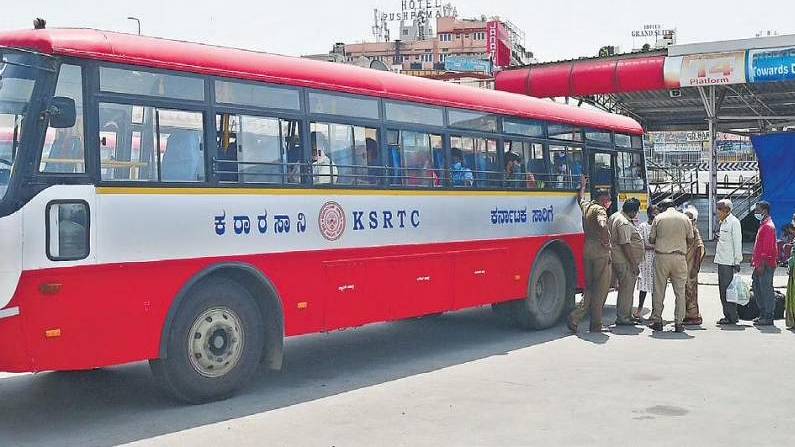 A casual picture
Route of buses arriving and departing from Mysore-Bangalore route:
arrival
Bangalore Road-Nadaprabhu Kempegowda Circle- Left Turn- Ring Road to Mahadevpur Ring Junction (Satagalli Bus Depot)- Mahadevpur Road-Nexus Center City Mall Junction-Kalikamba Temple Road Junction- Government House North Gate Junction-Nawab Hyderali Khan Circle-BN Road- KSRTC Bus Stand (near Siddalingpur on the left service road, come in front of Atrium Hotel and take Free Left Turn at Nadaprabhu Junction)
Also Read: HD Kumaraswamy: Minister Ashwattha Narayan should be beheaded; HDK put forward 3 demands!
exit
KSRTC Bus Stand, Nawab Hyderali Khan Circle-Sarkari Bhavan North Gate Junction-Dr BR Ambedkar Circle (FTS))-Dr Rajkumar Circle (Fountain Circle)- TN Narasimhamurthy Circle(LIC Circle)-Banni Mantapa Road – Proceed via Nandi Basappa Gori Junction-Toll Gate-Nadaprabhu Kempegowda Circle-Bangalore Road
Route of buses arriving and departing from Madikeri, Hassan via Hunsur route to Mysore city:
Arrival and departure
Hunsur Road-Field Marshall Caryappa Circle (Metropole Circle)-Dasappa Circle-Babu Jagjivanaram Circle (Railway Station Circle)-Puttu Gopalakrishna Shetty Circle (JK Ground)-Sheshadri Iyyar Road-Subhas Chandra Bose Circle(RMC) Abdul Kalam Azad Circle (Highway Circle) – Nelson Mandela Circle – TN Narasimhamurthy Circle (LIC Circle) – Link Road – Tippu Circle – Dr Rajkumar Circle – Government House Utta Dwara Junction – Nawaz Hyderali Khan Circle – BN Road – KSRTC Bus Stand
Preparation for Dussehra
Also Read: Hubballi: Inspector attends duty despite pain of mother's separation; The PI who killed a notorious thief
5. Five Dasara elephants for Srirangapatna
Srirangapatna asked for 5 elephants for Dussehra. We have not received information about this from the head of the forest department. This time we have prepared SOP if we have to send elephants. Be careful not to come within 10 feet of the elephants. Bursting of firecrackers, use of drones, people coming close are prohibited. Our doctors and staff will also be there. Organizers should take full responsibility for this. This time, along with Mahendra elephants, four other elephants will be sent to DCF Dr. in Mysore. Karikalan said.
Read breaking news first in News 18 Kannada. Get daily fresh news, live news update on Believer News 18 in Kannada
.