Nepal Air Crash Yeti Airlines plane crashes due to engine problem says report details in Kannada | Nepal Air Crash: Engine problem causes Yeti Airlines plane crash: Report
A plane belonging to Yeti Airlines, which was going from Kathmandu to Pokhara, crashed in the month of January. The reason for this is reported to be a mechanical problem.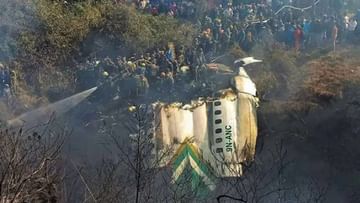 Yeti Airlines plane crash
Kathmandu: He was moving towards Pokhara from Kathmandu, Nepal Yeti Airlines (Yeti Airlines)A plane crash belonging to (Nepal Air Crash)An engine problem (mechanical fault) was reported. A twin-engine ATR 72 aircraft met with a horrific accident in Nepal's Pokhara on January 15 in the morning. About 68 passengers and 4 crew members were carrying this plane, so many people were killed in the accident. Five of them are Indians. Airport authorities said 53 Nepalis, 5 Indians, 4 Russians, 1 Irishman, 2 Koreans, 1 Argentinian national and 1 French national were on board.
The Pokhara-bound flight took off from Kathmandu's Tribhuvan International Airport at 10:33 am. About 20 minutes later, the plane crashed. According to the Civil Aviation Authority, the plane caught fire before landing. According to the preliminary investigation, Nepal airport officials said that the accident was due to a technical fault. Apart from this, a 5-member commission of inquiry was formed to investigate the plane crash.
Also Read: Nepal Plane Crash: All passengers killed in Nepal plane crash, 5-member commission of inquiry formed
Indian nationals Abhishek Kushwaha, Bishal Sharma, Anil Kumar Rajbhar, Sonu Jaiswal and Sanjay Jaiswal died in this tragedy. India's Ambassador to Nepal Shankar P Sharma expressed his condolences as this is a very unfortunate incident. The Prime Minister of Nepal and the Civil Aviation Minister of India have expressed their condolences regarding the incident.
Cerium Fleets Data, which tracked the aircraft fleet, equipment and its costs, said that the Yeti Airlines flight 9N-ANC ATR-72 that crashed into the river gorge was previously owned by Vijay Mallya's Kingfisher Airlines in 2007. Six years later, the aircraft was bought by Thailand's Nok Air before being sold to Nepal's Yeti Airlines in 2019.
Read international news Click here
.