Norovirus Disease: Two Kerala students infected with norovirus Norovirus Symptoms And How It Spreads | Norovirus Disease: Norovirus detected in two Kerala students; What are the symptoms and risks of this infection?
Norovirus Symptoms: Common symptoms of norovirus infection include diarrhea, vomiting, nausea and stomach upset. Fever, headache and body aches.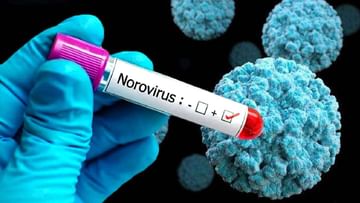 Norovirus
Kochi: Out of two students in Kerala Norovirus (Norovirus) has caused concern by detecting infection. Norovirus has been found in two children from Kakkanad, Kerala. 1st and 2nd class students of a school near Kakkanad have developed symptoms of this disease and three of these children are undergoing treatment in the hospital.
A total of 62 students and some parents of Kakkanadu school showed symptoms of norovirus disease and two samples were sent for testing at the state public laboratory. The District Medical Officer has given an official statement in this regard, the health condition of the children is stable. Now the school which is temporarily closed has been inspected by the health department staff. We are conducting online awareness sessions for children and parents. He said that the classrooms and toilets have now been sanitized. Last year, two children were infected with norovirus in Vizhinjam, Thiruvananthapuram.
What are the symptoms of norovirus infection?:
Norovirus is a viral disease that is the most common cause of acute gastroenteritis globally. Simply put, it is a highly contagious virus that causes diarrhea and vomiting. According to the World Health Organization (WHO), norovirus can infect anyone. Anyone can get sick easily because of this.
Common symptoms of norovirus infection include diarrhea, vomiting, nausea, and stomach upset. Fever, headache and body aches.
Also Read: Norovirus: Norovirus outbreak in Kerala: Dakshina Kannada, Kodagu districts advised to take precautions
Causes of Norovirus spread:
Direct contact with an infected person, drinking contaminated food or water, or touching a contaminated upper body, putting unwashed hands in your mouth causes the transmission of norovirus.
How to prevent the spread of norovirus?:
Washing your hands frequently, washing fruits and vegetables, thoroughly cooking shellfish, staying home when sick and for 2 days after symptoms stop can help prevent the spread of norovirus.
Norovirus causes inflammation of the stomach or intestines. This is called acute gastroenteritis. Symptoms usually appear 12 to 48 hours after exposure to the virus. Most people recover from norovirus illness within 1 to 3 days.
Also Read: Norovirus: Norovirus scare begins for children and elderly; Watch out for this disease that debilitates the body
There are no specific medications to treat norovirus disease. Drinking as much water as possible can prevent dehydration. This also reduces the spread of norovirus. It is essential to wash your hands thoroughly with soap and water after going to the toilet, as the virus can remain in the stool of a person who has recovered from this norovirus for at least 2 weeks.
Click here to read more health news
.