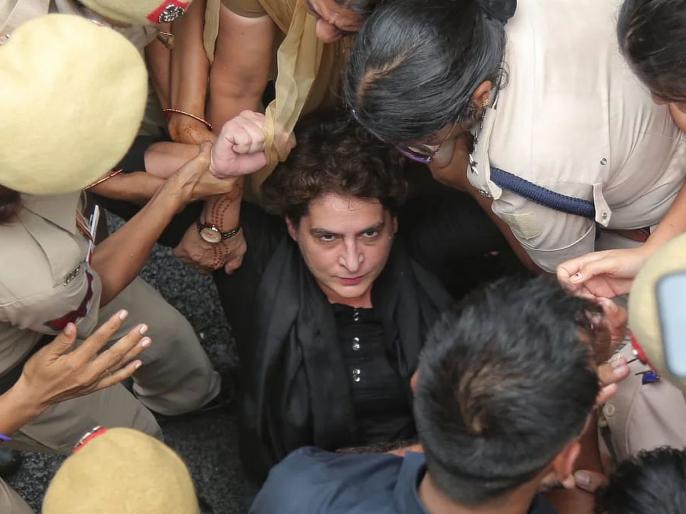 Order Rawal
Lokmat News Network
New Delhi: Congress on Friday staged a strong protest on the issues of inflation, unemployment and GST. Many leaders including Congress leader Rahul Gandhi and General Secretary Priyanka Gandhi were detained by the police. General Secretary Priyanka Gandhi was literally dragged and dragged into custody by the women police. His video has gone viral on social media. In this, women policemen are seen forcing Priyanka into the vehicle and pushing her.
Anti-inflation leaders wore black clothes. Congress president Sonia Gandhi also briefly participated in the march before the parliamentarians started marching.
Led by Rahul Gandhi, members marched from Parliament House to Rashtrapati Bhavan. The police stopped them and detained them. Congress executive committee members and senior leaders had decided to lay siege to the Prime Minister's residence. Priyanka Gandhi alleged that there is no inflation for Prime Minister Modi. He has given the wealth of the country to some people. Rahul Gandhi, K. C. 64 Members of Parliament were detained, including Venugopal, Adhir Ranjan Chaudhary and Gaurav Gogoi.
The video of the action goes viral; Anger among activists
n Later on that street dharna protested. The women police personnel tried to detain them. But, it was not possible. After that, Priyanka Gandhi was literally dragged and detained by the women police.
n In another video, women policemen are seen forcing them into the vehicle and pushing them.
When Priyanka Gandhi and Rajasthan Chief Minister Ashok Gehlot came out of the Congress headquarters with gas cylinders in the morning, the police put up barricades to stop them. Dressed in a black salwar-kameez and dupatta, Priyanka Gandhi jumped over the barricades set up by the police in front of the party headquarters. As they were heading towards the Prime Minister's residence, they were surrounded by the Delhi Police.
This authoritarian government is scared. They fear India's conditions, inflation and historic unemployment. They are afraid of reality, threatening the one who raises his voice. – Rahul Gandhi
The police think they can suppress the opposition. We will come under pressure and sit on the bus; But why should we do that? His minister says that inflation is not visible. We want to go to the Prime Minister's residence and show inflation.
– Priyanka Gandhi
Web Title: Priyanka Gandhi was pushed and dragged into the police car in price hike agitation
Get Latest Marathi News , Maharashtra News and Live Marathi News Headlines from Politics, Sports, Entertainment, Business and hyperlocal news from all cities of Maharashtra.
.