Rahul Gandhi: What is the reason for Rahul's visit to Ladakh, is it a strategy to counter PM Modi's image? – Rahul Gandhi: What Is The Reason For Rahul Gandhi Ladakh Tour, Is It A Strategy To Challenge Pm Modi Image?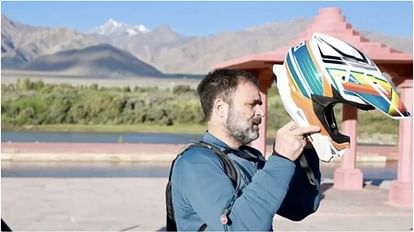 Rahul Gandhi during Ladakh visit
– Photo: Social Media
Expansion
Former Congress Party President and MP Rahul Gandhi went on a Ladakh tour for August 17-18, but has not returned yet. After reaching Ladakh and Khardung La by bike, he is meeting people, getting photographs taken, talking. Rahul will be there till August 25. His visit has been extended. Apart from Ladakh, he is yet to visit many other areas. Along with this there are many big questions too? When Rahul Gandhi went to Ladakh, on this pretext, the issue of Chinese intrusion has become alive again. In such a situation, is he now preparing to compete directly with the image of Prime Minister Narendra Modi?
Is this the next phase of Rahul's Bharat Jodo journey?
Regarding the second phase of Rahul Gandhi's Bharat Jodo Yatra, a former Union Minister of the Congress Party says that you can consider it as such. However, this visit of Rahul Gandhi was only for two days. Now he will end his visit to Ladakh on 25 August.
Congress party source says that Rahul Gandhi wants to start his Bharat Jodo Yatra. However, the leaders of the party are still busy preparing for the assembly elections in states including Rajasthan, Chhattisgarh, Madhya Pradesh, Rajasthan. Lok Sabha elections are proposed in 2024. In such a situation, a section of Congress leaders thinks that they should look at alternatives like traveling to Ladakh. The Congress party also has an interest in this. Sources reveal that the biggest reason for this is the ever-increasing popularity and acceptance of Rahul Gandhi among the public. Congress leaders have different opinions regarding Rahul Gandhi's visit to Ladakh and the commencement of the second phase of Bharat Jodo Yatra.