Saayoni on Hiran: 'He who eats from the plate, it leaks', Saayoni Ghosh attacks BJP MLA Hiran Chatterjee after his comment on actress
Saayoni on Hiran: In the face of journalists' questions, Saayoni countered, 'Did any judge name Saayoni Ghosh? Do you know anything?'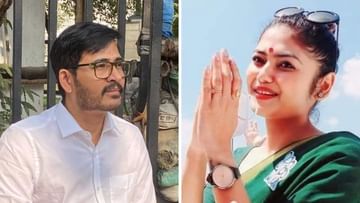 Saini taunts Hiran
Kolkata: Saayoni Ghosh (Saayoni Ghosh) said the name of the judge! Another TV actor and BJP MLA Hiran Chatterjee made such a comment about Trinamool youth leader Tathaya actress. Raised the question of whose money one flat was built one by one with whose money? Saini gave Hiran a harsh reply. He claims that Hiran has no importance anywhere, neither in the team nor in Tollywood. That is why he thinks Hiran is making such comments.
In the face of journalists' questions, Saini retorted, 'Did any judge name Saini Ghosh? Do you know anything?' At the same time he taunted Hiran and said that the dish that Hiran eats leaks. He claims that Abhishek Banerjee did not open the 'door', that is the anger of Hiran. Saini further claimed that if someone else opens the door for Hiran in the future, then the actor can also go there. In other words, the Trinamool youth leader explained that she is not upset at all by Hiran's words.
Hiran, who visited Chandrakona recently, said that those who are in Trinamool, like Sayani Ghosh, even judges are talking about him. How he built one flat after another. Who made it with money? The BJP MLA made comments not only about Saini but also about Dev. He said, 'Your MP here, Deepak Adhikari, is also heavily involved in corruption. He took Rs 5 crore from Enamul Haque. Dev's fans were angry with me then.' He also named Bani Sengupta, Srikant Mehta.
On March 29, there is a meeting of the youth organization of Trinamool in the premises of Shahid Minar. And there the protest of DA activists is going on. When asked about that, he said, 'There is no money. From where to give DA? Movement is beauty. Everyone can do it. And the administration will see that there is no problem.' On that day, Chief Minister Mamata Banerjee is sitting on dharna. Referring to that, Saini said, 'There will be a double bang on that day. It shows how serious we are. The Chief Minister and Abhishek are in a fight against the Centre. There will be a flood.'
.