Shave the entire head of male staff if they are lacking hair; Tata-owned Air India updates its grooming rules for its cabin crew
The airline has asked its cabin crew to follow the guidelines immediately. However, hundreds of cabin crew will take time to adapt to the new rules.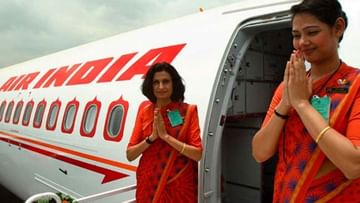 Air India staff
Delhi: Tata-owned Air India (Air India) grooming rules for its cabin crew (grooming rules) updated. Air India sources, who did not want to be named, said that according to the revised guidelines, those with severely receding head hair should have a clean shave or shave their entire head, ANI reported. The airline has asked its cabin crew to follow the guidelines immediately. However, the report quoted Air India sources as saying that hundreds of cabin crew will take time to adapt to the new rules. Men can look bald. If the frontal hair on the head is gone, if the hair is visible on the scalp, then the staff should look completely bald. The head should be shaved daily for a clean look. The cabin crew manual states that crew cut is not allowed. The revised rules for female staff include no pearl earring, 0.5 cm size bindi (only if they wish), a bangle without designs and stones, no too high or too low bun (Turubu Bun).
Female cabin crew may wear only gold or diamond circular earring which is not designed or decorative. A small dot within 0.5 cm size, the ring should not be more than 1 cm wide. Only one ring can be worn on one hand. A single bangle without a design; Wrapping of rust should be specific. Only four black bobby pins should be used. Eyeshadow, lipstick, nail paint and hair shade cards must be strictly followed (personal shade is not allowed), long socks matching skin tone mandatory for flight duties along with both saree and Indo-Western wear.
Both male and female staff with white hair also need to color it regularly to keep it looking natural. Fashion dye and henna are not allowed. Black or religious thread is not allowed on wrist, neck, ankle. The guidelines state that personnel who are social media influencers should not wear the uniform and its accessories while off duty. Grooming guidelines issued earlier cover aspects such as code of conduct (staff cannot carry plastic bags or shopping bags in public areas), etiquette, personal hygiene, manner of carrying uniforms, etc.
Airline sources said the changes have not yet been fully adopted by the staff. "Over the decades, the finer details of grooming rituals have not been strictly adhered to. Details such as hair color, or shaving the head, wearing tie-pins, etc., were never enforced. Sources said it will be implemented first with the new flight attendants.
According to the guidelines published under the name "Cabin Crew Handbook", rude behavior should be avoided while in a group and decorum should always be maintained while in uniform. That said, a calm conversation is always appreciated.
Tata Sons regained control of Air India after nearly 70 years after its nationalization in October last year. Air India will gradually induct 30 new aircraft, including five widebody Boeing aircraft, from December this year to boost its domestic and international services.
.