The rover that came out of the Vikram lander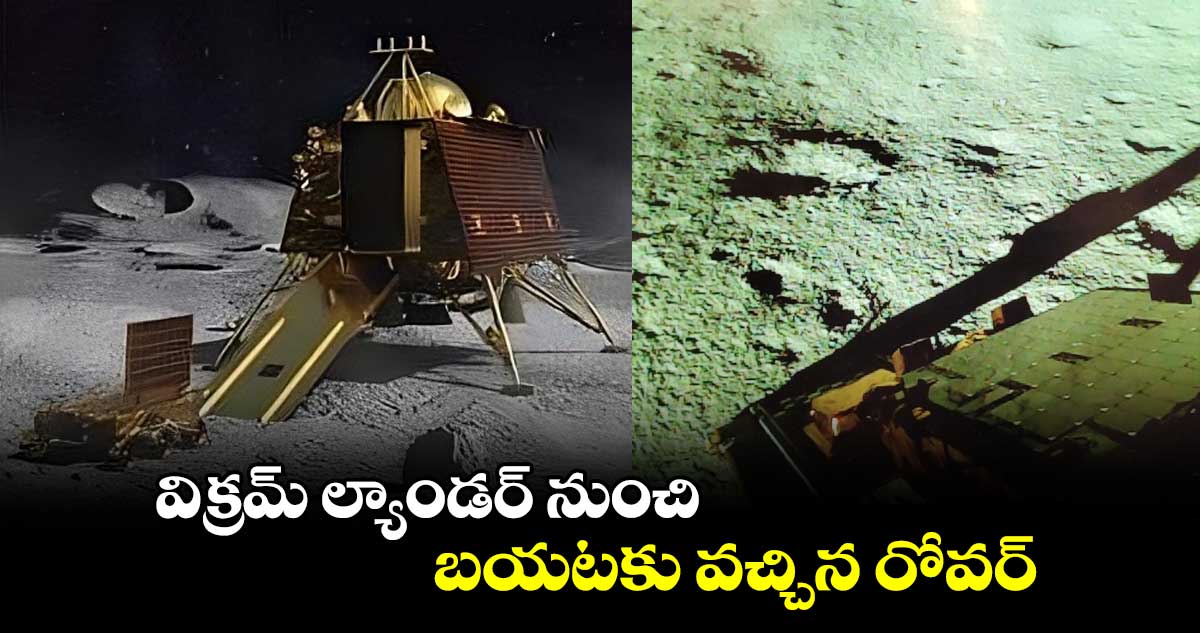 It is known that Chandrayaan 3 Vikram lander has successfully landed on the moon. Rover Pragyan came out of Vikram Lander after about 4 hours. The 6-wheeled rover moved on the surface of the moon at a rate of one centimeter per second. Stamped the logo of four lions and ISRO on the moon. The rover will return to the Moon for 14 days to relay information to the lander. Photos related to that are going viral on social media.
After the successful landing of the lander, ISRO released another new photo. The photo was taken by the Landing Image Camera, ISRO said. A part of the Chandrayaan 3 landing site is visible in it, it said. It also tweeted that the shadow of the lander leg can also be seen in it. ISRO explained that Chandrayaan 3 has selected a plot area on the lunar surface.
Chandrayaan-3 Mission:
The image captured by the
Landing Imager Camera
after the landing.

It shows a portion of Chandrayaan-3's landing site. Seen also is a leg and its accompanying shadow.

Chandrayaan-3 chose a relatively flat region on the lunar surface 🙂… pic.twitter.com/xi7RVz5UvW

— ISRO (@isro) August 23, 2023
html,
body,
body *,
html body *,
html body.ds *,
html body div *,
html body span *,
html body p *,
html body h1 *,
html body h2 *,
html body h3 *,
html body h4 *,
html body h5 *,
html body h5 *,
html body h5 *,
html
body
*:not(input):not(textarea):not([contenteditable=""]):not(
[contenteditable="true"]
) {
user-select: text !important;
pointer-events: initial !important;
}
html body *:not(input):not(textarea)::selection,
body *:not(input):not(textarea)::selection,
html body div *:not(input):not(textarea)::selection,
html body span *:not(input):not(textarea)::selection,
html body p *:not(input):not(textarea)::selection,
html body h1 *:not(input):not(textarea)::selection,
html body h2 *:not(input):not(textarea)::selection,
html body h3 *:not(input):not(textarea)::selection,
html body h4 *:not(input):not(textarea)::selection,
html body h5 *:not(input):not(textarea)::selection {
background-color: #3297fd !important;
color: #ffffff !important;
}
/* linkedin */
/* squize */
.www_linkedin_com
.sa-assessment-flow__card.sa-assessment-quiz
.sa-assessment-quiz__scroll-content
.sa-assessment-quiz__response
.sa-question-multichoice__item.sa-question-basic-multichoice__item
.sa-question-multichoice__input.sa-question-basic-multichoice__input.ember-checkbox.ember-view {
width: 40px;
}
/*linkedin*/
/*instagram*/
/*wall*/
.www_instagram_com ._aagw {
display: none;
}
/*developer.box.com*/
.bp-doc .pdfViewer .page:not(.bp-is-invisible):before {
display: none;
}
/*telegram*/
.web_telegram_org .emoji-animation-container {
display: none;
}
/*ladno_ru*/
.ladno_ru [style*="position: absolute; left: 0; right: 0; top: 0; bottom: 0;"] {
display: none !important;
}
/*mycomfyshoes.fr */
.mycomfyshoes_fr #fader.fade-out {
display: none !important;
}
/*www_mindmeister_com*/
.www_mindmeister_com .kr-view {
z-index: -1 !important;
}
/*www_newvision_co_ug*/
.www_newvision_co_ug .v-snack:not(.v-snack–absolute) {
z-index: -1 !important;
}
/*derstarih_com*/
.derstarih_com .bs-sks {
z-index: -1;
}