Tripura Chief Minister Biplob Dev resigns a year before Assembly elections – News18 Bangla

#Tripura: Tripura Chief Minister Biplob Dev resigned a year before the Assembly elections, according to PTI. On Saturday, Tripura Chief Minister Biplob Kumar Dev said he had submitted his resignation letter to Governor SN Arya. The announcement was made by the Tripura Chief Minister after meeting the Governor at Raj Bhavan. "The party wants me to work to strengthen the organization," Biplob Deb told PTI. According to sources, Biplob Dev resigned after the news of infighting within the state branches of the BJP came to light.
Union Minister Bhupendra Yadav and BJP general secretary Binod Tawde have been appointed as central observers, both of whom have reached Agartala. The BJP is expected to announce the name of the new chief minister today. Apart from Bhupendra and Binod, state BJP in-charge Binod Sonkar will also be present at the meeting. Leading Tripura Chief Ministerial candidates are Deputy Chief Minister Jishnu Dev Verma and Rajya Sabha MP Dr Manik Saha.
Read more- The same narrow staircase of entry and exit has increased panic! 26 dead in Mundaka fire!
Biplob Dev's resignation letter-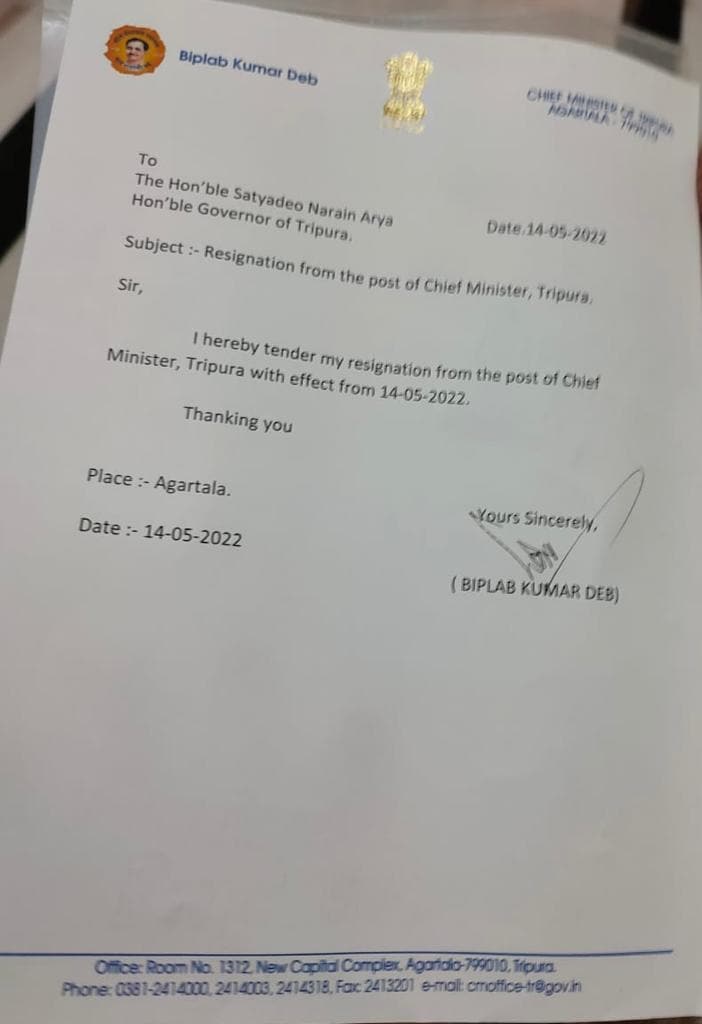 The Trinamool Congress did not miss the opportunity to mock the opposition BJP in announcing such a sudden resignation. Trinamool said in a tweet, change is inevitable in Tripura!
Goodbye & good riddance to the CM who failed thousands of people in #Tripura!

Enough damage done. So much so that even the top bosses at @ BJP4India are fed up of his INCOMPETENCE. Folks at BJP seem very rattled by what ITAITCofficial achieved in the state. CHANGE IS INEVITABLE. https://t.co/KtXY5WP2ae– All India Trinamool Congress (ITAITCofficial) May 14, 2022
"Farewell to the Chief Minister who failed thousands of people in Tripura! There has been enough damage. The damage is so great that even the top BJP officials are upset over the Chief Minister's incompetence. BJP seems to be very upset! Change is inevitable, "Trinamool wrote in a tweet.
Read more
"I have worked for Tripura and I am grateful to the party," said Biplob Deb in his first response to reporters after resigning as chief minister. He said, "If an organization like mine works to keep the government in place for a long time, the organization will definitely benefit." Is there any trouble or arrogance haunting him after resigning from the post of Chief Minister? In reply, Biplob said, "Every work has a time limit. Whatever role I am given, Biplob will work everywhere."
Biplob Dev was associated with RSS for a long time. Biplob was born in Akraban, Udaipur, Gomti district of Tripura. He spent about 15 years in Delhi. Biplob Deb used to work as a gym instructor in Delhi before taking charge of the party's state branch in 2016. Biplob Dev became the first BJP chief minister of Tripura in 2016, ending the 25-year rule of the Communist Party of India.
News 18 Be the first to read breaking news in Bengali. There are daily fresh news, live updates of the news. Read the most reliable Bangla news on News18 Bangla website.
Tags: Biplab Deb, Tripura, Tripura Politics
.