Mumbai-
Kanhaiyyalal was strangled to death by two men in broad daylight in Udaipur, Rajasthan. The murdered Kanhaiyalal was a tailor and had his own business. Under the pretext of measuring clothes, the assailants broke into his shop and killed him. Kanhaiyyalal's fault was that his eight-year-old son had shared a post on social media a few days back in support of BJP leader Nupur Sharma's controversial statement.
Listening to Hanuman Chalisa, the producer demanded body pleasure, the actress's secret blast
The repercussions of the Udaipur massacre have been felt across the country. Now even Bollywood actors have reacted angrily to the issue. Protesting the incident on social media, Bollywood actors have said that the killer who killed an innocent man like Kanhaiya Lal is not a murderer but a monster.
Bharatiya Janata Party leader Nupur Sharma had a few days back made a controversial statement against the Prophet Mohammad. The statement drew a backlash against and in support of Sharma. The atmosphere on social media was also heated in this case. In this situation, the atmosphere deteriorated when Kanhaiyyalal's son posted in support of Nupur Sharma. It was from this that Kanhaiyalal was assassinated. The killers, Gauss Mohammad and Riaz Jabbar, also threatened Prime Minister Narendra Modi by sharing videos on social media after the assassination. Police have arrested both the killers.
'A Vadapav' Allu Arjun was trolled by netizens
Speaking boldly, actress Kangana Ranaut shared a photo of Kanhaiyalal on her Instagram story and wrote that this person was killed in Udaipur due to Nupur Sharma's support. The assailants severed his throat from the body. It is very wrong for such things to happen in the name of God or religion. This incident has made me numb.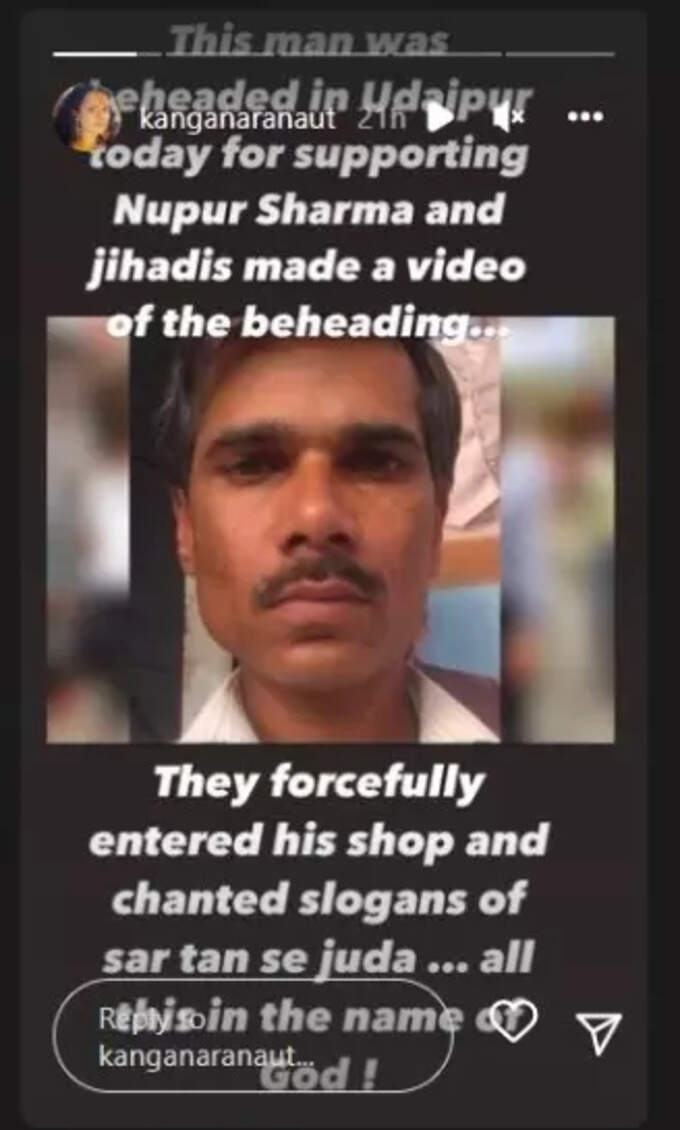 Masan Cinema producer Manish Mundra has reached out to help Kanhaiyalal's family. Mundra has announced to help Kanhaiyalal's wife with Rs 11 lakh. Mundra shared a video on social media saying that he was helping.
Vivek Agnihotri, director of The Kashmir Files, also commented on the incident and shared on social media that it was highly reprehensible. It has become difficult for a Hindu to live in the country. Vivek shared a sketch of Kanhaiyalal saying if you want to live in such a situation, become a Naxalite or go underground.
Anupam Kher, who is known as a sensitive artist, has also expressed anger over the incident. He tweeted, "I'm stunned, I'm numb." "People's freedom of speech has no value," he said.
Swara Bhaskar has also expressed on social media on the occasion of Udaipur incident. She likened the killers to monsters and said the incident was reprehensible. The law also says that those who kill in the name of God should be severely punished by law.
Richa Chadha has also expressed his views on the matter. She also advised not to share any such video in this case. This could endanger Kanhaiyyalal's family. Richa also wrote in her post that the killers should be dealt with immediately.
.