Uddhav Thackeray: "BJP's Hindutva is distorted, vicious and greedy"; Uddhav Thackeray's attack on the grand assembly – Marathi News | shiv sena chief and cm uddhav thackeray criticize bjp over hindutva and other issues in bkc sabha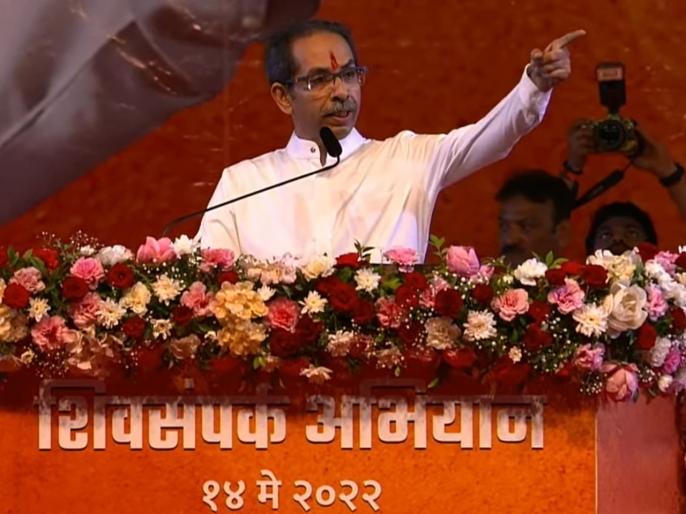 Lokmat News Network
Mumbai: His ugly face has come to the fore as the veil of Hindutva of BJP has been completely torn off. Devendra Fadnavis wants to make Mumbai independent, that is what his owners want; But he also warned that no matter who comes with your boss, only those who break the shackles of Mumbai gained by martyrdom will be torn to pieces.
The meeting was attended by a huge crowd of Shiv Sainiks from all over Maharashtra. In his speech, Uddhav Thackeray slammed the BJP, the central government and Devendra Fadnavis. BJP wearing the veil of false Hindutva is working to mislead the country. Failure to stop the ongoing killings of Kashmiri Pandits, rising inflation, led to attacks on the BJP.
Atal Bihari Vajpayee's BJP is no more today. On this occasion, Minister Subhash Desai, Aditya Thackeray, Eknath Shinde, Min. Sanjay Raut and Gulabrao Patil also spoke.
Munnabhai covered in saffron shawl; Raj Thackeray's ridiculous mockery
– Some people feel like they are Balasaheb now, they are walking around wearing saffron shawl. Like Munnabhai in 'Lage Raho Munnabhai', he has become 'Chemical Locha'.
– Munnabhai is walking like this. Uddhav hit the ball without mentioning Raj Thackeray's name.
At the end of the movie, 'Apan ke bheje me kemikal locha hoyela hai' is the only thing that Munnabhai realizes, he pointed out the change in Raj's role.
Devendra, Babri would have fallen because of your weight
– I was there when Babri Masjid was demolished, you say Devendra. How old were you at that time and how much do you talk?
– Have you been on a school trip?
– Hey! Even if you had put one foot down to make Babri fall, Babri would have fallen because of your weight, said Uddhav.
Web Title: shiv sena chief and cm uddhav thackeray criticize bjp over hindutva and other issues in bkc sabha
Get Latest Marathi News , Maharashtra News and Live Marathi News Headlines from Politics, Sports, Entertainment, Business and hyperlocal news from all cities of Maharashtra.
.