uddhav Thackeray

Uddhav Thackeray, while addressing a meeting of Shiv Sampark Abhiyan, criticized BJP and MNS. Uddhav Thackeray criticized the central government for not giving Marathi the status of an elite language.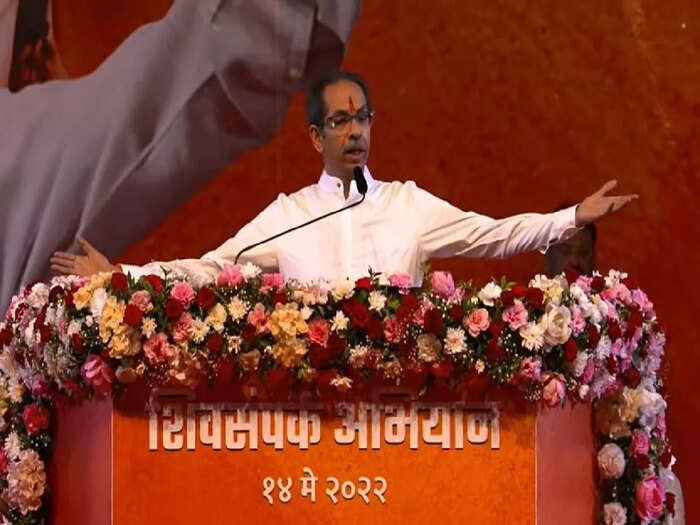 Highlights:
Uddhav Thackeray criticizes BJP
Criticism of Raj Thackeray giving Munnabhai's testimony
Archaeological obstacle in the development of temples in the state
Mumbai: Shiv Sena chief Uddhav Thackeray criticized BJP at a meeting of Shiv Sampark Abhiyan at BKC in Mumbai. On this occasion, the Chief Minister indirectly criticized Raj Thackeray saying Munnabhai. Uddhav Thackeray said, in the middle a Shiv Sainik asked, Saheb, did you see Munnabhai? When I asked him, he said that Munnabhai sees Gandhi in it, then he does Gandhigiri. We have such a case, it feels like it has become Balasaheb. Sometimes they carry shawls, sometimes they take up the issue of Marathi and sometimes they take up the issue of Hindutva. Stay tuned Munnabhai said that Munnabhai used to do people's work. So, Shiv Sainik said no, Lage Raho Munnabhai finally finds out that there was a chemical leak in his brain. Uddhav Thackeray said that Munnabhai is walking now, let him walk. Uddhav Thackeray criticized Raj Thackeray without mentioning his name, citing the example of Lage Raho Munnabhai.

We had gone to Ayodhya with soil from Shivaji Maharaj's birthplace. In 2019, the Supreme Court ruled in favor of the Ram Mandir. In 2019, I became the Chief Minister. The Mahavikas Aghadi government is working to renovate the ancient temple. We have selected eight temples. The archeology department at the center has falsified it. We are renovating the temples, trying to make the temple last longer. The Archaeological Department is taking care of Aurangzeb's tomb, said Uddhav Thackeray. Chhatrapati Shivaji Maharaj is our deity. The mother tongue of Chhatrapati Shivaji Maharaj is not given the status of an elite language by the government, it is the government of the currents, said Uddhav Thackeray.

Javed Miandand had come to meet Balasaheb Thackeray. Balasaheb asked him, "Do you play monkey on the stadium?" Uddhav Thackeray criticized Kirit Somaiya, saying that in cricket it is called sledging. I thank the people of Maharashtra. I thank you for your cooperation during the crisis of Corona, said Uddhav Thackeray.

Important articles
If you had climbed Babri, Babri would have collapsed with your weight: Uddhav Thackeray
Marathi News App: Do you want to participate in the changes that are happening in your life? Download the Citizen Reporter app and send reports.
Read more about this news
Web Title: uddhav thackeray said we decided to protect eight temples but archeology department made obstacles in work
Marathi News from Maharashtra Times, TIL Network
.