Ukraine could win war against Russia in 2023, Zelensky tells ex-PM Boris Johnson
Ukrainian President Volodymyr Zelensky told former British Prime Minister Boris Johnson that Ukraine could win a war against Russia this year.
During a meeting with students and faculty at Taras Shevchenko National University in Kyiv, Ukraine, Zelensky said that Ukrainians needed to remain united and strong in order to win the war.
"The speed (of ending the war – Ed.) depends on many things: strength inside Ukraine and strength from outside – the help of partners. And we must not allow processes to slow down either outside or inside, because this will prolong the war, Zelensky said, according to the website of the Office of the President of Ukraine.
The Ukrainian president also rejected claims that his victory was optional or that a partial Ukrainian victory was sufficient.
Zelensky said they would "definitely get everything back," adding that he sees Ukraine as a future member-state of the European Union and a partner of NATO.
For his part, Johnson said that the UK, as a "friend" of Ukraine, would help them "end this war as soon as possible in 2023."
Johnson said that winning the war would be "the best thing ever" for Ukraine and for the Russian people.
Britain's former Conservative Party leader said Ukraine should be provided with "better" weapons to "enable" its people to defend the country.
Johnson said that providing modern weapons to the Ukrainian military was not an act of escalation, arguing that Russia "has the most advanced modern aircraft to bomb residential areas."
Since the start of the war almost a year ago, the UK has provided $2.8 billion in military aid to Ukraine.
The UK also provided Ukraine with multiple-launch rocket systems and advanced medium-range anti-air missiles to defend the country's airspace.
The British government also sent over 200 armored vehicles and 100 logistics vehicles to Ukraine, according to its official website.
Reuters reported that the two leaders' meeting came after senior Biden administration officials advised Ukraine to launch a major offensive against Russia.
A senior US official, speaking to a small group of journalists on condition of anonymity, said a Ukrainian offensive would be more effective once the latest US military aid arrives in the country and Ukrainian forces are trained.
The official said that Ukraine had used most of its resources to defend the beleaguered town of Bakhmut, but it was highly possible that Russian forces would capture the area.
National Security Council spokesman John Kirby told reporters at the daily White House briefing on Friday that the Russian victory at Bakhmut would not significantly change the war and that the Russians are "pouring, just literally throwing bodies into the flesh." Mill" to capture the city.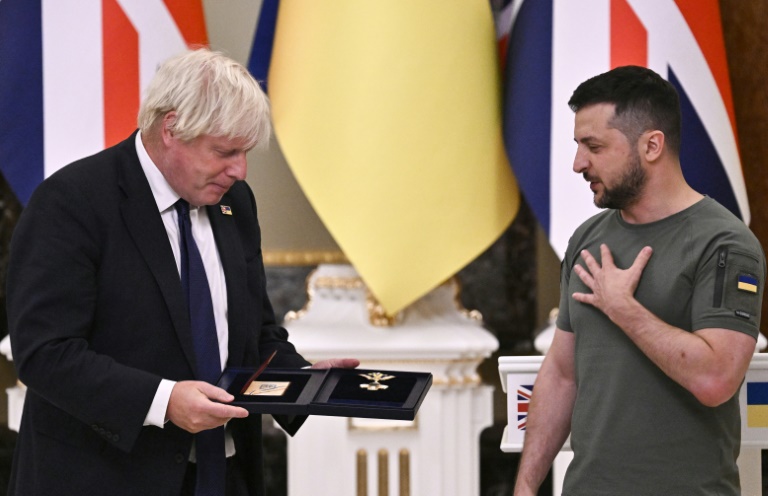 Related Articles
,.