Unsc: Western countries brought proposals for sanctions on Mali, Russia vetoed Britain, know the whole matter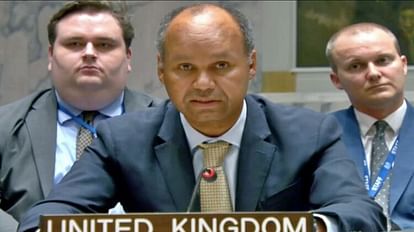 James Kariuki, Britain's Deputy Permanent Representative to the United Nations.
– Photo: GOV.UK
Expansion
The UK has expressed deep regret over Russia's "reckless use" of its veto against the renewal of United Nations Security Council (UNSC) sanctions against Mali. Britain's Deputy Permanent Representative to the United Nations (UN) James Kariuki said at the UNSC meeting held on Mali on Wednesday, Britain cannot support Russia's proposal to dissolve the panel of experts on Mali, nor can it accept sanctions. Supports his attempt to predetermine measures.
Russia used veto, China remained absent
Russia on Wednesday vetoed a UNSC resolution drafted by France and the United Arab Emirates (UAE) on sanctions against Mali, while the 13 members of the Security Council voted to extend UN sanctions and independent monitoring for another year, according to media reports. Voted in favor of the proposal to increase the. Russia vetoed the resolution, while China abstained from voting. Kariuki thanked France and the United Arab Emirates for their efforts on a solution.
Britain gave the reason for support
He also said that the UK voted in favor of the resolution because of its strong support for the sanctions regime on Mali and the renewal of the mandate of the panel of experts, despite many difficult compromises. Kariuki described it as essential for peace and stability in Mali. This is why the UK deeply regrets Russia's careless use of its veto, he said. This would undermine the UNSC's monitoring and commitment to the Mali peace process at a critical juncture.
Britain's Deputy Permanent Representative to the United Nations said London is deeply concerned about the deteriorating political, humanitarian and security situation in Mali. Kariuki concluded his address to the council by saying, "regardless of the outcome of today's vote, the UK remains committed to supporting Mali's peace settlement and holding it accountable for human rights violations and abuses."
The ban system is in force since 2017
The sanctions regime on Mali has been in force since 2017, which was proposed at the UNSC to be extended till August 31, 2024. Russia is adamant that this extension should be final. Before the vote, Russia's Permanent Representative to the UN Vasily Nebenzya said that adopting the resolution proposed by the UAE and France would be counterproductive not only in terms of ensuring the efficiency of the sanctions regime, but also for the peace process. . Mali has accepted Bamako's official request to lift the sanctions regime, the Russian news agency reports.
Under the current sanctions regime imposed on Mali, the sanctions list may include individuals and organizations responsible for actions that threaten peace, security or stability in Mali. These include, in particular, those who are conducting hostilities in violation of the 2015 peace agreement, obstructing its implementation, obstructing humanitarian assistance, violating international humanitarian law and engaging in the recruitment of children. The blacklisted people have been banned from traveling abroad and their property and economic resources have been confiscated, the Russian news agency reported.