US Police Brutally Beat Black Person Tire Nichols Died by police atrocity | US Police Brutality: Black Death by Police in America: Widespread Outcry, Condemnation
US Police Atrocity: He shouted 'mom' (mother) many times before he was beaten by the police, which has stirred people's minds.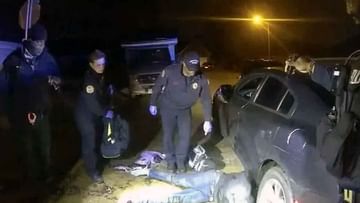 Tyre Nicholas, who died in the attack of the police in the city of Memphis, America
Memphis: In America, a black man died after being beaten by the police, and there was widespread outrage across the country. The deceased has been identified as Tyre Nicholas. Tyre Nichols died after being punched in the face, kicked and beaten. The fact that he shouted 'mom' (mother) many times before his death has stirred people's minds. Memphis officials have now released video of the incident. The black police chase Nicholas, beat him up against a car, and the scenes of their actions are captured in this video.
After the death of Nicholas, the public outcry intensified. The police officers responsible for Nicholas' death were charged with murder. People of America have posted on social media that even though the people have demanded many times and the courts have told them, nothing has changed in the attitude of the police. 29-year-old Nicholas was working at FedEx. He died after being beaten for three minutes by the police. Nichols' lawyers said it was similar to the 1991 police shooting death of Rodney King.
Nicholas' last moments
A policeman stopped Nicholas' car and pulled him out. When Nicholas shouted, 'I have done nothing', a group of policemen surrounded and started beating him. When the policeman who was holding Nicholas yelled 'shoot', Nicholas said, 'I'm already down,' Pratti said. 'I have not done anything wrong. You are going home. You have been doing very well lately. Stop, I haven't done anything,' Nicholas shouted again. When a policeman fired a stun gun at him, Nicholas started to run. The police chased them and beat them up. Nicholas died from this blow.
Mother said no violence
Protests have started in America condemning the death of Nicholas. Nicholas' mother appealed to the protesters to 'keep the peace'. "I don't want violence in our city. If you are in favor of Nicholas, please protest peacefully,' he asked the protestors who had gathered in front of his house.
End to police violence: President's promise to the mother of the deceased
US President Joe Biden also spoke to Nicholas' mother and promised to raise this issue in the Congress (House of Representatives of the United States). He said that he will soon implement the 'George Floyd Act'. If implemented, police violence in America will be curtailed, and federal and state governments will be held accountable.
Also Read: George Floyd black murder case: American police agreed to compensate the Floyd family
Click here to read more foreign news
.