Us: Russia and North Korea actively advancing in arms deal negotiations, America claims – Us Concerned Arms Negotiations Between Russia And North Korea Actively Advancing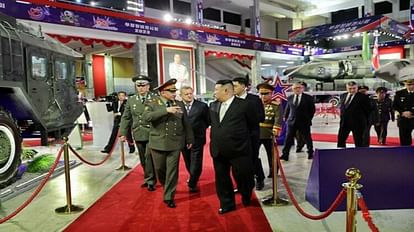 North Korean leader Kim Jong Un and Russian Defense Minister Sergei Shoigu.
Photo: ANI
Expansion
The US has claimed that Russia and North Korea are actively pursuing their talks regarding a possible arms deal. The deal includes providing ammunition required for various weapon systems including artillery. US media, citing recently released US intelligence, reported that there were fresh indications that the Kremlin is desperate to secure more supplies for its faltering offensive in Ukraine. News of the possible deal comes despite North Korea's public denial.
America worried about arms deal between Russia and North Korea
According to media reports, the Biden government said on Wednesday that they are still concerned that the two countries are engaged in arms talks and that a second meeting of Russian officials followed Russian Defense Minister Sergei Shoigu's visit to North Korea last month. The delegation has arrived in Pyongyang for additional talks on a possible deal.
Apart from the other delegation, Russian President Vladimir Putin and North Korean leader Kim Jong Un have written letters to each other pledging to enhance their bilateral cooperation, according to John Kirby, strategic communications coordinator of the US National Security Council. Kirby said, we are concerned that North Korea (DPRK) is considering providing military assistance to Russian military forces in Ukraine and we have new information that we are able to share today that Russia and Arms negotiations between the DPRK and the DPRK are actively progressing. He further said, after these talks, high-level discussions may continue in the coming months.
The public disclosure of the new intelligence is the latest example of how the Biden administration seeks to continue to publicize Russia's efforts to evade Western sanctions and source weapons for the Russia-Ukraine war. It also wants to tell North Korea that America is closely monitoring these efforts. The report claims it offers the most in-depth evidence yet of Russian access to North Korea in support of the attack on Ukraine.
Under these potential deals, Kirby said, Russia would receive significant quantities of a variety of weapons from the DPRK that the Russian military plans to use in Ukraine. These potential deals could also include the provision of raw materials that would support Russia's defense industrial base, he warned, adding that the US would take direct action to impose sanctions on any entities involved in the potential deal and end negotiations with Pyongyang. urged to do
Kirby said Russia's efforts to obtain weapons from countries like Iran and North Korea are a clear sign of its plight. There is no other perspective than to see these efforts clearly as a matter of desperation and weakness, Kirby said. During the Security Council stakeout on Wednesday, US Ambassador to the UN Linda Thomas-Greenfield also accused Russia and North Korea of ​​negotiating an arms deal. Greenfield called it shameful and a violation of Russia-backed Security Council resolutions.
Western officials have said Iran has provided weapons to Russia for use against Ukraine and that Pyongyang provided infantry rockets and missiles for its military to the Russian mercenary organization Wagner late last year. According to media reports, both Iran and North Korea have denied these claims.