Woman Woken Up By Elephant: You may never have seen such a video before. The woman was sleeping in a hotel while visiting Thailand. An elephant woke him up in the morning. have a look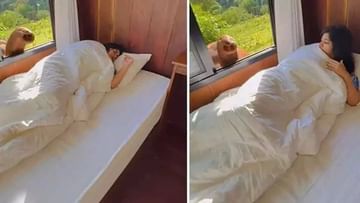 You may never have seen such a video before.
A video of a beautiful moment has gone viral on social media. In a video shared on Instagram, an elephant wakes up a woman in her hotel room in Thailand in the morning. Think what a crime! Where you travel, you may be woken up by hotel staff or need to leave early, so set your alarm early. And here an elephant knocks on the window with its trunk and wakes up the female tourist. Beautiful moment, isn't it? Maybe this is the first time you heard about such an incident.
Popular lifestyle and travel blogger Sakshi Jain shared this video on Instagram. In her caption she wrote, "This cutie woke me up. The wind from his trunk woke me up."
As seen in the video, Sakshi went to spend a holiday in a resort in Thailand. He was sleeping in the hotel bed. In the morning, an elephant came and knocked on the window of his room. And that's why the travel blogger woke up. When he woke up, he saw an elephant standing on the other side of the window.
In the video, Sakshi also writes, "Elephants wake you up instead of reception calls or alarms at this resort in Chiang Mai, Thailand. You can walk them up close, feed them, and even bathe them. This experience was truly different. So, the next time you plan to visit Thailand, definitely include Chiang Mai in your trip. One can have a good time in the vicinity of mountains, rivers and elephants."
The recently shared video has already garnered close to 25 lakh likes and 70 million views. The video also received 3,000 comments. Netizens and Sakshi's followers liked this video a lot.
.