Viral Video: The bride is weighed down by gold! Enjoy the video of 'Chinna' Danta
Dubai: Marriage is a celebration in itself, it makes a house full of people. Especially spending on weddings has become a trend these days. There is a saying that even if you make a loan, eat ghee. There is a proverb that tells a thousand lies and makes one marriage. Similarly, giving dowry, gold and property to a boy for marriage is still prevalent today. You all must have seen that the bride has entered the new life grandly wearing diamond ornaments. But here a bride has been weighed in gold.
Traditionally the rich and wealthy spend more on weddings. Food, snacks, clothes for the guests arriving at the wedding, decoration of the Kalyana mandapam, clothes for the bride and groom, decoration, odave etc. are spent a lot.
Bride's decoration, dress and hair style, make-up, jewelery are quite a highlight in the wedding. A wedding is a dress up event. Some give a substantial dowry to the groom. Others welcome the bride with diamond jewellery.
The bride itself is weighed in gold at the wedding
In the meantime, a marriage has become the subject of much discussion on social media. Because this marriage is different. Usually in India, you may have seen saints and devotees being weighed in a scale and given davas, grain, duddu. But here in marriage the bride is weighed in gold.
Video of Pakistani bride weighed in gold in Dubai goes viral
This marriage is a living proof that some people even measure their marriage by their wealth. The video of this wedding, which is said to have taken place in Dubai, has become a hot topic. Here the Pakistani bride is weighed down with gold bars.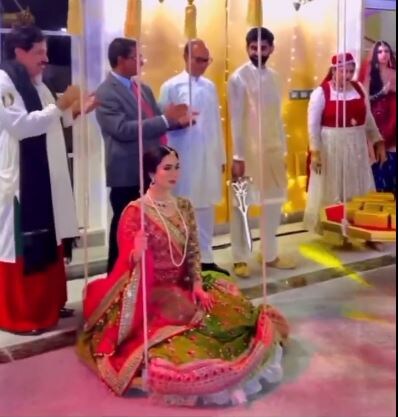 Pakistani bride weighed in gold by family members in Dubai
In the video, the bride and groom walk towards the hall. He is welcomed by relatives gathered on the mandapam. Then the bride comes and sits on one side of the huge decorated table. On the other side of the scale she is weighed down with large gold nuggets.
The video has gone viral on social media
This video of a Pakistani bride being weighed down with gold in Dubai has now gone viral on social media. A Pakistani bride is weighed in gold equal to her body weight. It is known that this gold was given as dowry.
Bride measured in gold in Dubai🙈🙈.
Further proof that all the money in the world will not give class to classless individuals. pic.twitter.com/wfAMTJKCEL

— Tawab Hamidi (@TawabHamidi) February 25, 2023
The weight of the bride was about 70 kg. The bride's family members weighed gold bars equal to her weight. The bride is weighed in gold. As this video went viral, many criticized it.
Also Read: Father Gives Daughter Valentine's Day Gift! It is hard to see a cute video of father and daughter
People are starving in Pakistan. At that time, a user tweeted and criticized that they weighed the bride in gold instead of feeding the hungry. It is learned that the bride's father is a Pakistani businessman based in the UAE. The video is now quite viral.
.