Why can't we make our city as beautiful as Dubai: Governor Sindh Tesori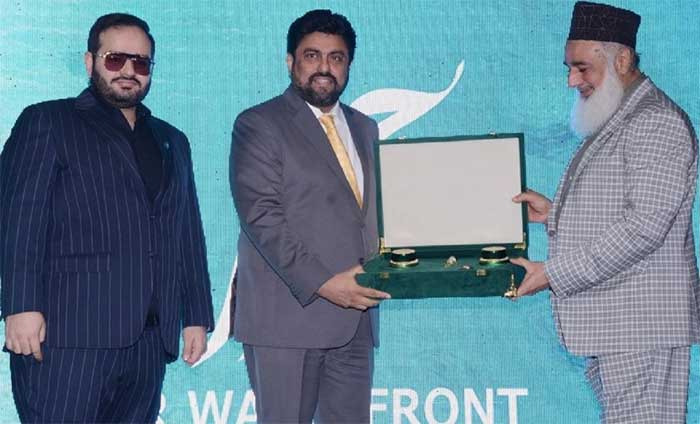 KARACHI: HMR Group Chairman Haji Rafiq Pardesi welcomed the Governor of Sindh, Muhammad Kamran Tesri, whom he had invited for lunch at his head office. Sindh Governor Kamran Tesori thanked Rafiq Pardesi and his team for hosting a lunch in his honour, said a press release.
Speaking on this auspicious occasion, Sindh Governor Muhammad Kamran Tesori said that we all have seen Dubai turning into a beautiful city out of the desert, so why can't we make our city beautiful? The key is your intention. When there's a will, there's a way. Make the commitment and effort to transform this city into a modern city, and soon you will be able to proudly show others around this city.
The job of the government is to reward those people who want to do good work and try to bring a positive change in the society. Unfortunately, instead of reward, we take them to task. We should keep doing good deeds with positive thinking. If this city develops, then the state and the country will develop. The construction industry plays an important role in the economic prosperity of the country. The doors of the Governor's House are open to all for 24 hours.
Sindh Governor Kamran Tesori said that the countries which got independence after us can develop and become developed nations, so why not us? I am sure that a project like HMR Waterfront will be a fruitful venture for the country's economy, enhancing its financial standing.
Addressing the participants of the event, Haji Rafiq Pardesi, Chairman, HMR Group, said that HMR Waterfront is the result of hundred years of struggle. The Governor is a man of commitment, a true Mujahid. We are determined to use every possible means for the development of this city and country.
He further elaborated that the HMR Waterfront project has been designed by the best architects of the world. It is a gated community and we are ready for immediate possession to make life easier for the residents.
The memorable event was attended by dignitaries from various walks of life including Sajid Hasan, Yasin Malik, ABAD President Altaf Tai, Ahmed Bakshi and media persons.