Yoga for depression these 3 asanas can help you fight depression Yoga for Depression: Do these three yoga poses to get rid of depression
Empowering you to control your emotions and making us think positively. Nowadays depression problem is not only found in adults but also in children, Yoga helps in calming your mind.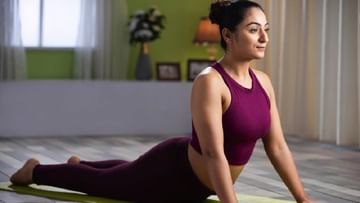 yoga
Image Credit source: Getty Images
Yoga is a powerful tool for maintaining physical and mental health, including depression. Recent studies have shown that yoga can reduce the effects of stress, help with anxiety and depression. Like meditation, relaxation and exercise, yoga can help you maintain peace of mind. Some of the asanas in yoga give us the ability to control our emotions and make us think positively. Nowadays depression problem is not only found in adults but also in children, Yoga helps in calming your mind.
Setu Bandhasana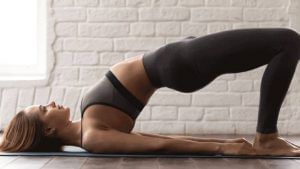 Setu Bandha is derived from the Sanskrit word "setu" which means bridge, and "bandha" which means lock or binding. This asana strengthens the back muscles, relieves back tension, stretches the chest, neck and spine and calms the mind. If you have neck pain or back problems do not do this asana without a professional yoga teacher. Pregnant women in their third trimester should do this asana only after taking doctor's permission.
Steps:
Lie on your back
Bend your knees and place your feet near the hips
With your arms beside your body, and palms facing forward, inhale and gradually lift your lower, middle and upper back off the floor.
Now, hold this pose for about a minute and exhale as you release the pose
Balasana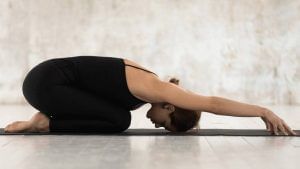 In Balasana, the body looks like a fetus in the womb. This is called a relaxing pose and helps relieve back pain. It helps in removing stress and anxiety by releasing tension in the chest, hips and shoulders. It helps you breathe better and calms the body and mind
Steps:
Sit on the knees
Keep your knees and feet on the floor
Slowly bend forward so that your forehead touches the floor.
Exhale and place both your arms at your sides, palms touching the floor
Slowly bring your chest in
Stay in this pose for 45 seconds to a minute and continue breathing
Adho Mukha Shvanasana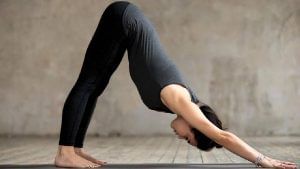 Downward Dog Pose or Adho Mukha Shvanasana is called Downward Facing Dog Pose because it resembles a dog lowering its body. This asana is practiced during Surya Namaskar. It improves blood circulation between shoulder and spine. Improves breathing as it strengthens the lungs, improves digestion, energizes and relaxes the body. Removes fatigue by calming the mind.
People with carpal tunnel syndrome, diarrhoea, pregnant women in their final trimester, people with injuries on the arms, hips, shoulders or back, high blood pressure, headaches, detached retina or weak eye capillaries should not do this asana.
Steps:
Stand straight with your feet together
Kneel on the floor and place your hands on the floor
Keep the thighs and arms on the floor
You will feel a stretch in the muscles at the back of your legs
Take a deep breath
Stay in this bunk for a minute or two, and then come up
breaking news
.