Young NTR, who bowed down to NTR Punyabhoomi, announced the fans who hinted at politics Jr NTR Visited NTR Samadhi, Fans Chant NTR For CM
Jr NTR: Telugu film legend NTR's birth centenary today (May 28) when Jr NTR visited his grandfather's mausoleum, some announcements made by his fans have now started a political debate.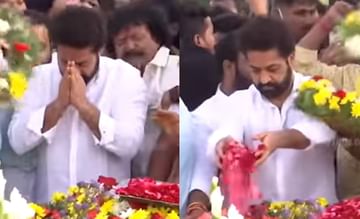 Junior Ntr
Today (May 28) marks the 100th birth anniversary of Telugu film legend NTR, former CM of undivided Andhra Pradesh. Nandamuri family is celebrating NTR's birth centenary in a grand manner. NTR's son Balakrishna and son-in-law Chandrababu Naidu have already done some shows together. But he did not invite Jr NTR for these programs. But today, on NTR's birthday, Jr NTR, who visited his holy place alone, bowed down to his grandfather. The announcement made by his fans on this occasion gave a hint of politics.
Jr NTR visited NTR's mausoleum in Khyterabad, Hyderabad this morning. This time a huge number of fans had gathered there. Amidst the rush, Jr. NTR who came near the grave laid flowers and bowed his head. This time, when some people came to give bouquets to Junior NTR, Junior NTR angrily pushed them aside.
Young NTR, the slogans shouted by the fans when they reached the grave site of NTR started a political debate. Fans shouted slogans of CM NTR when Jr NTR came. CM NTR slogans rang out till Jr NTR left the grave site. Young NTR did not even tell those who were making slogans to be quiet. This incident has now caused a debate in Telugu states.
Chandrababu Naidu and Balakrishna have kept Jr. NTR away from Nandamuri family and TDP party politics. There are rumors that Jr. NTR has been kept away to raise Chandrababu Naidu's son in the TDP party.
Also Read: Nandamuri Balakrishna-Chandrababu Naidu alienated Jr. NTR again
Junior NTR did not give any response to the fact that he was kept away from the TDP party. Now fans are doubting whether Jr NTR will start a new party due to CM NTR's announcements. Even his grandfather Sr. NTR had done an incendiary act against the Congress when he first formed the TDP party. Now it has to be seen whether young NTR will also stick to his self-respect and form a new party.
Click here for more movie news
breaking news
.